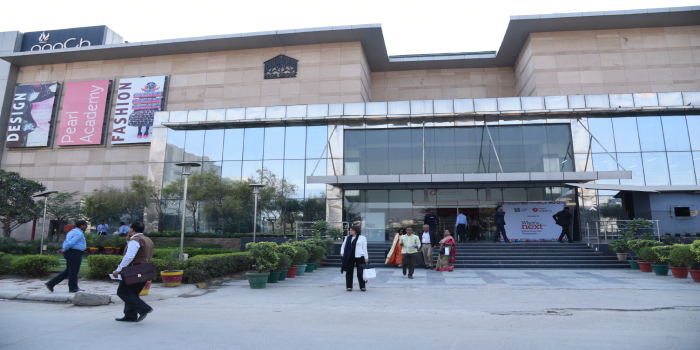 Lively and full of energy- this is how the New Delhi campus of Pearl Academy can be best described. This design institute is the home of highly imaginative minds and happy souls. Inside its modern campus, you will see confident Pearlites working hard on their unique projects with a smile on their face. The ambiance and environment of the campus render everyone an elevated feel, thus making it perfect for students to give shape to their amazing concepts. In short, the campus of Pearl Academy is a hub of vibrant activities.       
Careers360 presents here virtual tour of Pearl Academy taking you across its campus life.
Welcome to Pearl Academy (Delhi campus)
Infrastructure
The avant-garde infrastructure of Pearl Academy has all the modern facilities that are required for all-round skill development of students. It has fully-equipped labs, workshops, and classrooms that have all the latest amenities. The hi-tech campus is attracting budding aspirants from all over the country who want to polish-up their design skills. Moreover, the faculty at the Institute is highly experienced, and has vast industrial exposure also.
Hi-Tech Laboratories & Workshops
The Academy has fully-functional laboratories for its students. These have stock of the latest range of tools that are required for carrying out complex designing and implementing processes. There are different labs for varied necessities such as Apple lab, Dell lab, etc. The workshops are equipped with various essentials including sewing machines, tools & equipment, etc. that are required for stitching, draping, digital designing, and more. Apart from these, there are design and photography studios as well.  
Spacious Classrooms
The classrooms at Pearl Academy are interactive in nature. These allow the students to improve in terms of interaction and communication. The lecture rooms are designed for spurring inquiry-based learning that promotes an eagerness to grasp what is being taught. Facilities like air conditioners, internet connectivity, hi-tech multimedia and audio-visual equipment are present in all the classes.
Aesthetic Corridors
While walking along the corridor, one cannot fail to notice the walls displaying some of the beautiful works of the students, apart from notice boards giving crucial information. There are alluring artifacts at every floor of the building that further accentuate the grace of campus. One eye-catching thing about its exquisite passageway is 'Gratitude Wall'. Here, one can write anything for which they are thankful, and want to show their appreciation.
Funky Hangout Spots
There are various hangout spots for the students where they can chill, relax, and even think of out of the box design ideas. The modern cafeteria is among the most popular hangout spots where mouth-watering snacks and drinks are served. This is the best place where students can bond with each other over a plate of food.    
Also Read:
Life at NIFT Patna- Experience it with Shipra Ojha
Life at NIFT Bengaluru- Experience it with Radhika Gupta