Pearl Academy: Communicating ideas, changing lives


Communication design is increasingly becoming relevant nowadays. From the apps on our phone, the websites we shop from, the movies we love to watch, to the stories that move us, the ads that make us laugh, the books and blogs that teach us new things, and the campaigns that make us act—communication designers are touching, influencing and changing our lives in so many ways.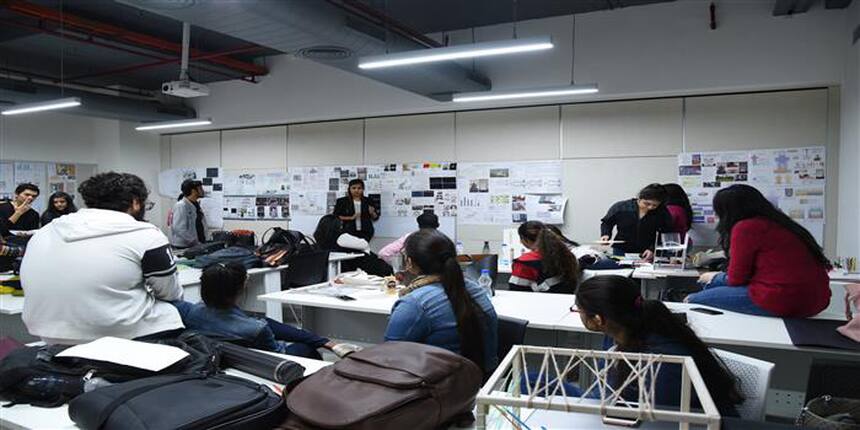 Pearl Academy is ensuring that its students are unlocking new possibilities for the way we interact with the world around us.
Ideas should get across people
At Pearl Academy, communication design is an enabler. "Right now, more than ever, people are coming up with great ideas. But how do those ideas get across to people? How do you sell it, package it, and pitch it? That's where communication designers come in," says Prof. Nidhip Mehta, School Head, School of Design, Pearl Academy, Delhi. Here, communication designers try to make sense of the world by developing content through print media, motion graphics, film and television, photography, digital media, animation, gaming, web and app design, and other interactive applications. 
Fast Facts
UG- Communication Design: Interaction, Graphic, Animation & VFX
UG- Interior & Spatial Design: Interior Architecture/ Interior Design
UG- Product & Lifestyle Design: Industrial/ Accessories
PG- Communication Design: Graphics/ Interaction
PG- Interior Design & Styling
About the Academy 
Pearl Academy is celebrating 25 years since its inception in 1993. It now has centres in Delhi NCR, Jaipur and Mumbai. The institute was set up by what is now one of the largest fashion conglomerates of the world—House of Pearl, as a fashion school. "But one always explores what next. By 2009, we felt really confident that we had the faculty, international and industry relationships to move ahead from just fashion. In 2009, we entered the first diversification in communication design, then we went into interior and product design, management, and finally, media this year," says Nandita Abraham, Chief Executive Officer, Pearl Academy. Pearl Academy has four schools—Fashion, Design, Management and Media and they are considered to be one of the best in India, in terms of curriculum and learning facilities. 
Pearl Total Learning System
"Pearl Total Learning System is an overlay on the curriculum. It has spaces in it where we can plug in industry and international experiences and skill development. The intention is that our students should get access to the best in the world in all areas required for a designer," says Nandita Abraham, explaining the new model that will roll out next year. 
Pearl Academy's Four Pillars of Learning System
Pearl Total Learning System has four main pillars: Edge for Success, Industry Integrated Circuit, Global Learning Project and Career Mentoring. 'Edge for Success' will include specialised courses students can take up outside their core areas. These include Design Thinking by IDEO, Digital Marketing by ADOBE and Entrepreneurship. 'Industry Integrated Circuit' ensures students are exposed to the industry throughout their time at Pearl Academy. All students will go for Live Industry Projects, get an opportunity to learn from industry masters and receive mentorship during professional practice and final projects. 
International exposure for students
'Global Learning Project' targets international exposure for each and every student. "Pearl has always been international—we always had an international outlook and faculty," says Nandita Abraham, but the institute is keen on more. Exchange programmes and beamed classes from global experts are some of the exciting avenues being explored. 'Career Mentoring' will facilitate 360° preparation in terms of a professional skills assessment at entry and final levels, career advisory and an incubation centre for budding entrepreneurs. 
International exposure 
Pearl Academy's academic model is based on global standards, with many international linkages with top global institutes like Domus Academy, Milan, KABK, Royal Academy of Art, Den Haag, in the Netherlands, BTK University of Art & Design, Berlin, Germany and more. "I've found the number of our students going aboard for higher education is increasing," beams a proud Prof. Mehta. 
Solutions for society 
Design can have an impact everywhere, whether it's sanitation, transport or education. One student did a project on dealing with depression through embroidery. Others have addressed a spectrum of social themes from helping the underprivileged to healthcare. Saurabh Bhattacharya, a Post Graduate Communication Design student from the graduating batch of 2017, picked up schizophrenia for his thesis project—in a bid to sensitise society to mental health. Another student spent three weeks in the village of Bastar, Chhattisgarh, studying dying tribal art.  
Spreading Awareness
Priyam Lodha, a fourth year student of Communication Design, is trying to spread awareness about 'Jaipur Foot'—a cost-effective, durable rubber-based prosthetic leg alternative for below-knee amputees. "My motive is to connect the audience with Jaipur Foot. I want to major in film and media and eventually get into direction. I want to make a film, create a fund-raiser and form a support group for Jaipur Foot," envisions Lodha. 
Scope of communication design 
"Communication Design provides a lot of scope. We have graphic design, film making, interaction design, user interface and user experience (UI/UX). At Pearl Academy, our professors and mentors ask us to go crazy, to explore everything, all around us. It is a great place to get an idea of where you want to go," says Eshant Gandhi, fourth year Communication Design student, who recently interned with the interactive design firm, Digital Jalebi. 
Option of taking up research projects
Close to half of the students of Communication Design choose to freelance or start their own practice. This is why internships aren't mandatory at Pearl Academy. Instead, students can take up research projects, if they find they are not seeking jobs, but trying to create their own path. "This year we had companies like IBM and Accenture taking designers for user experience design and internal communications," says Ms. Abraham. Around 10 percent students go in for higher education, according to Prof. Mehta. 
"Everyone has stories to tell. As communication designers, we can add value in terms of how uniquely we can portray those stories," says Raghavi Aggarwal, fourth year Communication Design student. In her first year, Aggarwal interned with an event firm, Shanqh, launched by her senior at Pearl Academy Siddhant Paul. 
Empowering students to navigate the future 
"What is certain about tomorrow is that it is uncertain. We prepare our students for uncertainties. At Pearl Academy, we put our students in increasingly unfamiliar contexts. When they go into these situations, their awareness really grows," remarks Prof. Mehta. 
Pearl Academy understands the need of communication between all the stakeholders of the society, hence it is teaching the importance of communication to its students.  
Also Read:
Pearl Academy, New Delhi Updates and Articles
Questions related to Pearl Academy, New Delhi
Showing 1 out of 1 Questions