What is it like to pursue a Master's in Design at IIT Delhi? - Himanshu Vishwarkarma, IIT Delhi student
Design students' campus life at IIT Delhi: Indian Institute of Technology, Delhi, located in Hauz Khas, South Delhi is one of the oldest and premier institutes in India. The Department of Design at IIT Delhi is well known for its academic excellence in design education, high-impact research, creativity, and innovation training in India. The design alumni of IIT Delhi have achieved success and a great career as renowned art directors, UI/UX designers, business managers, authors, and entrepreneurs. Here Careers360 brings to you an interesting insight into life at IIT Delhi as we spoke to Himanshu Vishwarkarma, an M.Des in Industrial Design student who shares his experience of pursuing a master's programme from this eminent institute and all about his days at IIT Delhi.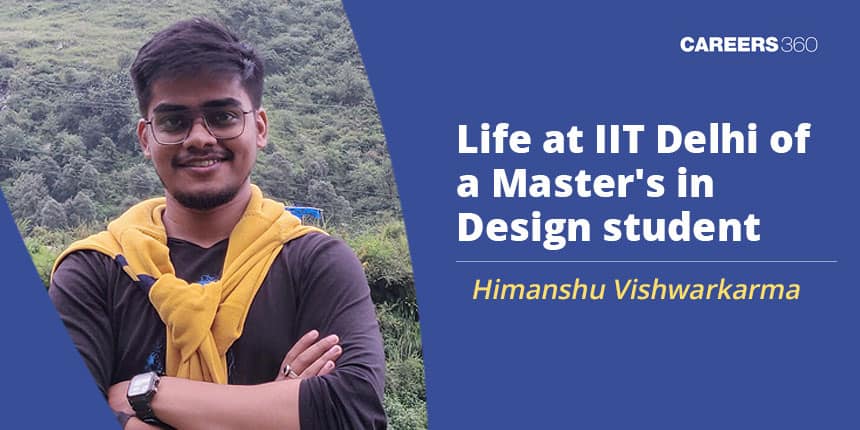 Careers360 - How is campus life at IIT Delhi? What do you like the most about this Institute?
Himanshu Vishwakarma - The campus is beautiful, lush green, and full of birds. I like the fact that the IIT Delhi management keeps the campus very clean.
Careers360 - How do you manage your time between your studies and other activities?
Himanshu Vishwakarma - Usually I do time boxing. I allot 20 minutes slots with 5-10 minutes breaks in between to do my tasks. Also, I make an effort to play a sport or go for a walk every evening.
Careers360 - Which are the various clubs and societies there? Are you a part of any? Do you think they are beneficial for the students?
Himanshu Vishwakarma - There are many clubs and societies here like sports club, drama society, debate club, fine arts society etc. here. Currently I am not associated with any due to covid situation.
Careers360 - Tell us about the infrastructure of the institution. How are faculty members, laboratories, mess, library and everything else?
Himanshu Vishwakarma - The infrastructure is at par with the standards of IIT. Construction work is going on to add more facilities and labs. The faculties are good and responsive. I haven't visited all the labs but the ones I have are sufficiently equipped and new labs are coming up in the new building for the Design department.
Careers360 - Where do you see yourself in five years? Do you have any entrepreneurship projects in the upcoming years?
Himanshu Vishwakarma - I see myself as an entrepreneur in near future. I already have a self-sustained start-up called Karkhana India, co-founded with one of my school friends. In the future, I intend to set up an electronics manufacturing unit for consumer goods and medical devices.
Careers360 - Why did you choose designing as your career?
Himanshu Vishwakarma - I see design as the cross junction of many different fields. It allows me to look in multiple directions and cross link them in novel ways. It also helps me connect with domain experts of engineering, sales, marketing, architecture and finance.
Careers360 - There is a huge change in our living pattern after the COVID 19 pandemic which has forced us to adapt to online culture. How has it affected your educational life?
Himanshu Vishwakarma - In my opinion, online education is detrimental to the already monotonous education system we have. Education should be more hands-on, and learnings should come by making mistakes, not by learning the manuals.
Careers360 - What are the challenges that students face regarding an internship especially during these times when reports came over the country about the cancellation of the internship project after pandemic hit the world.
Himanshu Vishwakarma - Yes there are few challenges in terms of availability of opportunities. But interns still have lots to look for as companies and institutes always welcome them. It is also an opportunity to rethink as to what an internship means, and to act on that.
Careers360 - How do you like to spend your leisure time? What are the most prominent activities in your campus?
Himanshu Vishwakarma - I usually play football or table tennis in my leisure time. It keeps me moving. Since there is restricted activity on campus, we see few people on the grounds playing sports.
Careers360 - How is the campus placement facilities at IIT Delhi?
Himanshu Vishwakarma - Placement committee is active and encourages students to be involved in it. There are many companies coming to the campus and the TnP cell is prompt to announce such opportunities to the students.
Careers360 - Does the faculties help the students with internships or any entrepreneurship project?
Himanshu Vishwakarma - Yes, some students who wish to do internship or entrepreneurship projects are encouraged by the faculties. They connect the students to the right opportunity and also provide guidance on all aspects.
Careers360 - What else makes your campus unique and interesting?
Himanshu Vishwakarma - I find the campus having some variation in terrain, as if it was built on a small hill. The flora and fauna, regular sighting of peacocks is really fun. A bicycle is a must to explore as it is too big for walks. A unique thing is that due to close proximity of IGI airport, there are a lot of airplanes passing above and that too very close. The visuals are exciting, but it's also noisy.
Questions related to IIT Delhi
Showing 829 out of 829 Questions