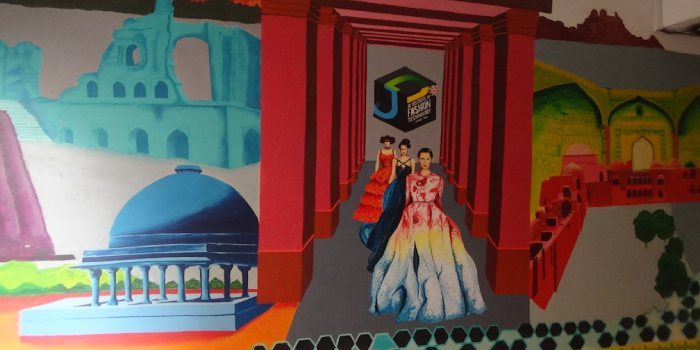 Admissions Open Now
KIITEEE 2019
KALINGA INSTITUTE OF INDUSTRIAL TECHNOLOGY ENTRANCE EXAMINATION (KIITEE- 2019) | 1 Exam | 100+ Courses | Exam Dates: 15th-24th April 2019
Apply
JD Institute of Fashion Technology is known for constantly bringing out successful fashion entrepreneurs and design professionals, who have marked their presence internationally. Its alumni include popular names like Rocky S, Shane and Falguni, Reza, Urvashi Kaur, Maheka Mirpuri, and many more. It is a sought-after fashion institute among aspirants, who want to pursue fashion design, interior design, jewellery design, photography or make up artistry. According to the students of JD Institute of Fashion Technology, learning design here is more than an adventure. With a perfect blend of fun and learning, life here is full of enthusiasm.
Compare Colleges
College Comparison based on Courses, Placement, Rank, Fee
Compare Now
In this article, Careers360 presents a virtual tour of JD Institute of Fashion Technology. It will aid the aspirants to fetch more information pertaining to the facilities available here.
Welcome to JD Institute of Fashion Technology
Workshops and Laboratories
JD Institute of Fashion Technology has well-equipped workshops and laboratories where students learn to apply theory into practice. The labs serve varied requirements of the design students thereby giving them convenience to carry out different tasks. The fully-functional laboratories have stock of the latest range of tools that are required for carrying out complex designing processes. The workshops are equipped with various essentials including sewing machines, tools & equipment, etc. that are required for stitching, draping, and more.
Classrooms
The spacious classrooms are equipped with all the required modern facilities. The structure of these high-tech classes is highly interactive that allows students to improve in terms of interaction and communication. Facilities like air conditioners, hi-tech multimedia and audio-visual equipments are present in all the classes.
Beauty Room
The beauty room is like a well-equipped studio. It is a special room for the students of fashion design programme where practical classes are conducted for them. The room has proper space, lights, and mirrors that facilitate students to carry out make-up, styling, designing, and other related activities.
Corridors & Staircase
While walking along the corridor, one cannot fail to notice the walls displaying some of the beautiful works of the students. Similarly, the staircase is also sketched and painted by the students for boosting the liveliness of the Institute. There are alluring paintings at every floor of the building that further accentuate the grace of campus.
Reception
The reception area of JD Institute of Fashion Technology is quite elegant and chic. The pictures of its alumni are displayed here, who have marked their presence in the global fashion industry. Highly unique and creative work of the Institute's students is also exhibited in this space.  
Also Read:
Life at Apeejay Institute of Design- Experience it with Chahat Gupta
World University of Design Campus Virtual Tour