JDIFT's Rupal & Harsh Dalal's Interview: Tips To make Your Mark in Fashion Industry
How to Become a Fashion Designer- Fashion is part of the daily air and it changes all the time.Our life  is highly influenced by  fashion and  designers have an impact on  how we see the world everyday  as they consistently come up with new trends. In this challenging career of fashion, designers have to be jack of all trades. The executive director of JD Institute of Fashion Technology,  "Rupal Dalal" and director, "Harsh Dalal," talk about how budding designers  juggle in various areas,  such as  designing, textiles, planning and production, merchandising and marketing, fashion buying, styling, media and communication, and quality. Getting a foot in the door of a fashion industry is exciting yet challenging. It goes without saying that a fashion industry is a competitive world where creativity has to be in parallel with optimal strategies. It is important for designers to keep up with the rapidly changing trends and demanding  shoppers who are always spoilt for choice. Those who have love for a fashion industry or want to become a fashion designer, they also have a burning desire to leave their mark in the industry  like  Ralph Lauren, Calvin Klein or Donna Karan. In an interview with Careers360, Rupal and Harsh of JDIFT shared some pointers on how aspirants should prepare themselves  and make it in the fashion industry. They also talk about the trends in the interview.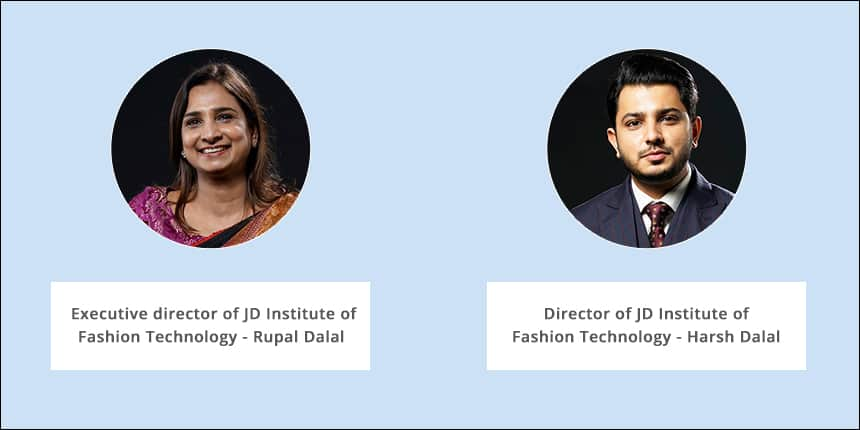 Careers360: Fashion changes rapidly, not only in India but globally. New trends come up every now and then to correspond to the taste of people. By the time students, however,  complete their studies, the trend changes. Since you are in fashion education, how do you keep up with this challenge? 
Harsh Dalal: There is no denying the fact that fashion keeps changing. To thrive on this challenge, we train students to incorporate design thinking which help them change their thought process and adapt to the global trends. Fashion correlates with innovative ideas and this practice allows them to sustain successfully in the industry. 
Careers360: What methodologies do you adopt to inculcate the design thinking in students as you are unaware of the upcoming trends? 
Rupal Dalal: Every year we have a theme wherein students get to work on the subtheme of the same. We give them a particular garment or structure and ask them to create something quirky out of it. They are trained in such a way every year and eventually they create excellent collection. We organize interior and jewellery exhibitions wherein  500 participants take place and it is held for two days. In the exhibition, students get a chance to put up their collection and showcase their talent.
Careers360: When we talk about change, it can be country-specific, which is also incorporated across the globe. As you were talking about design thinking, how do you help them amalgamate this change globally? 
Rupal Dalal: We keep track of new changes  and also conduct classes for the same so that our students stay abreast of the new development. Also students who are not aware of the modus operandi of market research , we help them by giving a few questionnaires so that can carry out the  research with ease.  
Careers360: How does the faculty keep a track of the changes that occur? 
Rupal Dalal: We have World Global Style Network(WGSN), which is a trend forecasting service that keeps tab on what's new in apparel, beauty, colour, marketing retail and wearables.  Even our students have been access to WGSN so that they can remain abreast of the new trends. 
Careers360: Do you have WGSN for modern as well as traditional fashion as each country follows their own set of trends for the same?
Harsh Dalal: To keep track of traditional fashion, we call artisan and teach the method of their own art to our students. Subsequently, our students try to change that particular art into current fashion. In addition, we have a tie-up with, "India Fashion Week London,"which is one of the biggest Asian bridal exhibitions. We have 36 collections showcasing there, along with our mentor, "Reena Dhaka." Students capitalize on this exhibition as they get a chance to present the Indian tradition on a global platform. India is rich in heritage and culture, picking one specific fashion idea from every state and then presenting in a place like London which is a fashion hub is an amazing experience. Also, participating in this kind of show gives  world insight into what India is doing, including its initiative and speciality. 
Careers360: Do you only follow mainstream fashion? What about India's tribal art and culture, do you incorporate them also?If yes, what all states do you focus? 
Rupa Dalal: Yes, we also include tribal art and culture in fashion education. We made  four groups of students  who visited four different states in mid-December. The students stayed with the artisans and  gained technical knowledge . After which, they created products under their supervision. This exposure helped them understand their work culture closely and familiarize them with the  challenges that crop up in the process of  developing  products. The artisans also assisted students in creating modern designs. Henceforth, we have decided that we will carry out this exercise every year. 
Not only this, we organize a workshop wherein we invite artisans so that students can interact with them and clear their doubts.  After this experience and once students complete their course and move out of the institute, they can decide where they want to divert their design as to which state , which artisan or art and craft. 
As far as what states we are going to focus, we are yet to decide. Most probably, our focus will be on Gujarat, Uttar Pradesh and North East. There will be two more states that we are yet to decide.
Careers360: Does your institute provide campus placement? How does it work and how many students get through it every year? 
Harsh Dalal: We do have a strong connection with industry. The number of students who graduate from our institute is around 2500 and approximately 90 percent of them get through the campus placement. Recently, our students got placed at Sabyasachi, Calvin Klein, H&M, and pepperfry. These are some of the companies where our students get the opportunity to work. A few of our students who completed their studies from our institute are working with Manish Malhotra for the past seven years. 
Careers360: As you said that every year almost 2500 students graduate from your institute, what are the employment opportunities for them in this field?
Rupal Dalal: Most students launch their own brands. Others work under designers and export houses. We encourage the students to undertake thorough research and interpret it in a manner which will meet the requirements of the consumer. This practice allows them to be dominant players and enable them to sustain successfully in the industry. Not only do they receive technical skills and training at the institute, but they also learn how to network like a pro to get entry in the industry.
Careers360: How do you divide the practical and theoretical aspects of studies? 
Rupal Dalal: The percentage split between practical and theoretical knowledge is 60 and 40 percent, respectively. Practical knowledge is paramount in this course. To gain practical knowledge, our students visit  manufacturers. Also, they go on research visits, such as art galleries, trade shows or to particular places that have a link to a design theme. 
Careers360: Do you work on the curriculum and modify it? If yes, do you modify both practical and theoretical curriculums? 
Rupal Dalal: Yes, we change it every year, depending on the industry requirement. In theoretical, we don't make much changes as it is only based on basic knowledge. We do revise the practical curriculum every year as it is the yardstick to gauge success and have edge on it.