Top 10 Fashion Shows in India
Top 10 Fashion Shows In India - The fashion industry in India has now in the spotlight and bloomed like never before. In comparison to the older years, the fashion industry has reached over the roof and established its significant presence in the international market. Indian cities will be soon rubbing shoulders with the global fashion hubs like Paris, London, New York and Milan. To showcase Indian fashion industry grandeur, Careers360 is listing some of the top 10 fashion shows in India. With the top designers showcasing their creativity in designing aesthetically pleasing functional clothing these few fashion shows have earned a fame for beauty and dazzling over the country. These shows are the harbinger of springs, accountable to cheer the Indian Fashion through worldwide.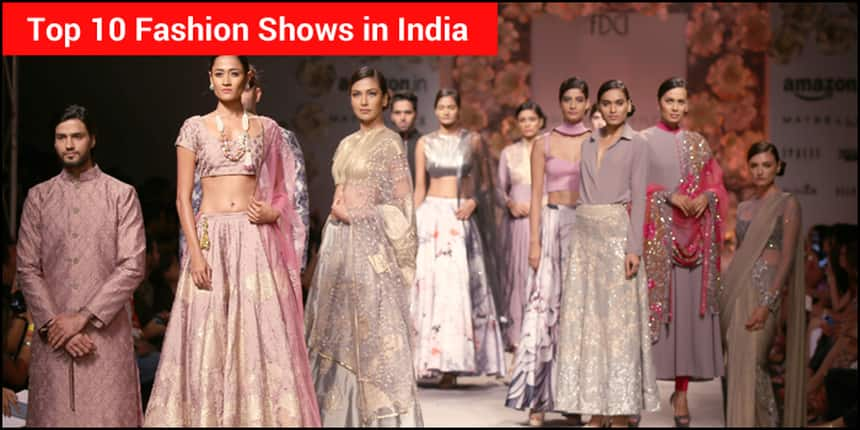 Check out the top 10 fashion shows in India which is mentioned below.
Lakme Fashion Week
Lakme Fashion Week is the first-ever fashion show taking place in India. LFW is a bi-annual fashion event organised in Mumbai. Lakme Fashion Week Summer Resort, the first show, takes place in February, and the second fashion event, LFW Winter Festive show is held in August. Lakme Fashion Week is plausibly India's most outstanding fashion event, controlled by the Fashion Design Council of India (FDCI) and sponsored by Lakme. Many international models along with the Indian film celebrities like Sushmita Sen, Deepika Padukone, Malaika Arora, Vicky Kaushal, Shahid Kapoor participate in Lakme Fashion Week.
The career of a famous designer Sabyasachi Mukherjee was also launched from Lakme Fashion Week. Lakme Fashion Week for the first time was held in August 1999 in New Delhi and the landmark event saw as many as 33 leading designers including Ritu Beri, Tarun Tahiliani, Rina Dhaka, Rohit Bal and Manish Arora first present their design at the national level. Ranna Gill was the first designer who opened the show with her Fall 2000 collections followed by winter collection for men by Rohit Bal and many more.
Lakme Fashion Week has gained its popularity and became one of the prominent fashion events in India. The credit for the remarkable collection and events goes to famous designers like Sabyasachi, Manish Malhotra, Vikram Phadnis etc.
Wills Lifestyle India Fashion Week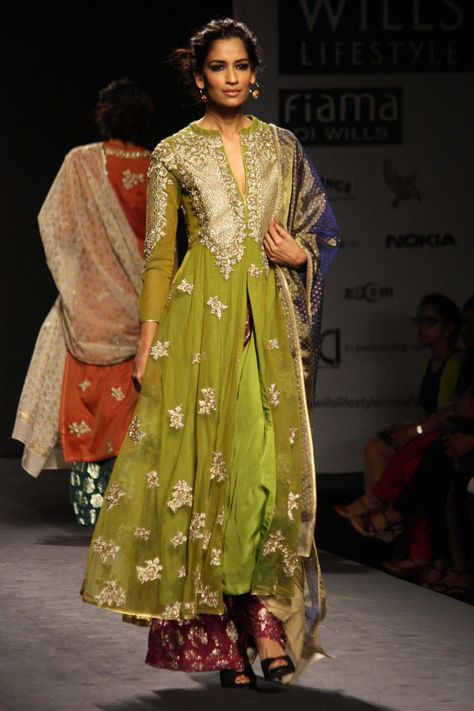 The Wills Lifestyle India Fashion Week (WIFW) is also one of the well-liked bi-annual Indian fashion events, famous for presenting summer and winter clothing collections. WIFE is organised by the Fashion Design Council of India (FDCI) and sponsored by Wills Lifestyle, it can witness more than a hundred designers, both young and renowned, participate in each edition. The Autumn-Winter event is held in March, while the Spring-Summer show celebrates in October. Prominent designers like Tarun Tahiliani, Rohit Bal, Janavi, Alpana & Neeraj, etc. regularly exhibit their creative work here. WIFW is known for offering a sizable platform for budding designers to showcase their work.
India Bridal Fashion Week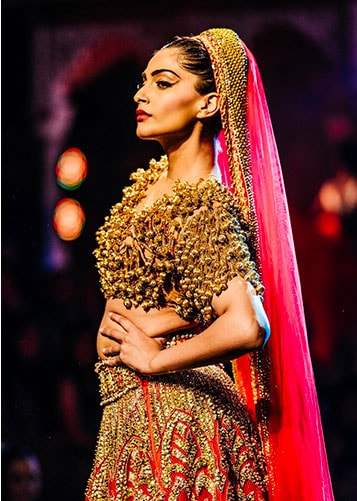 Known for presenting the best trends and designs in bridal couture contributed by top designers, the Indian Bridal Fashion Week is one of the famous fashion events which is held twice in a year. Heritage brands, Bollywood superstars and fashion trendsetters are all regular participants at the India Bridal Fashion Week. This five-day fashion show is the most popular destination for lovers of Indian fashion and wedding trousseau, and sees both established and budding fashion designers network with potential clients and leave their impressions on the wedding fashion scene. India Bridal Fashion Week is sponsored by Aamby Valley and has become the treasured events for Bollywood celebrities and other socialists.
Rajasthan Fashion Week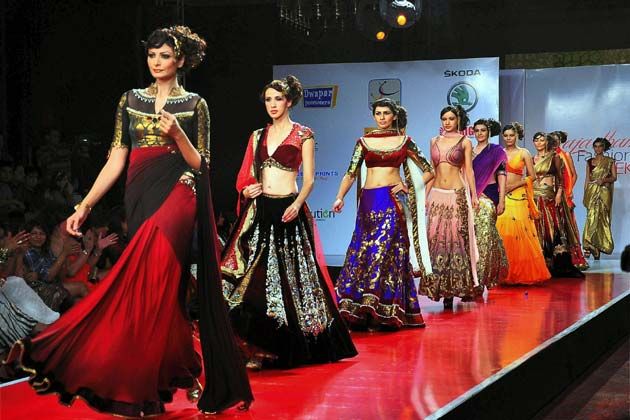 Rajasthan Fashion Week, a grand and royal event which began in 2012, has become prominent for showcasing a perfect blend of glamour and new age elements. With events since the launching of RFW, it has become a greater and mega event. The Rajasthan Fashion Week is an extended venture of Starlite Entertainment, Mumbai, and displays the work of both native designers and fashion giants.
Aimed at preserving the aesthetic values of Indian tradition and coordinating with the new ages fashion requirement, the event plays host to eminent fashion designers including Neeta Lulla, Ritu Kumar, Vikram Phadnis, Lina Tipnis, Kirti Rathore and Shaahid Amir among others.
Van Heusen India Men's Week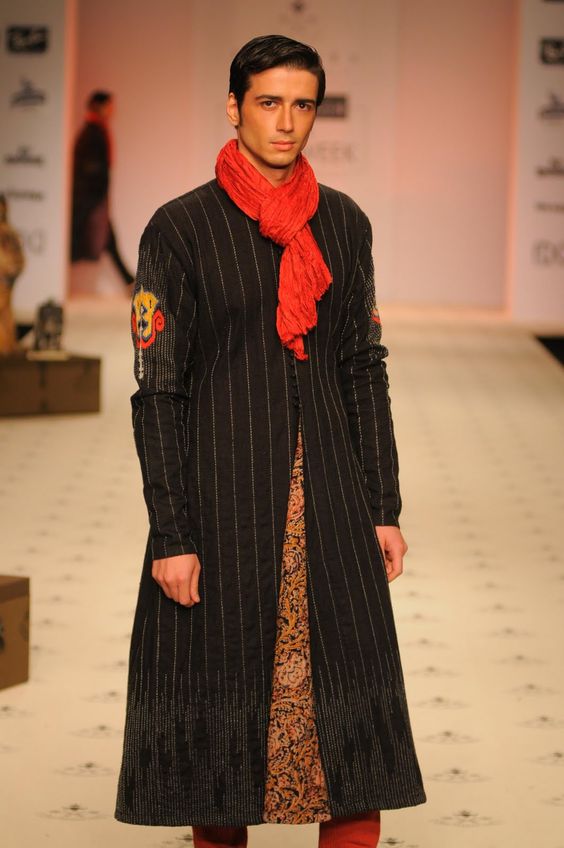 India's first show exclusively devoted to displaying men's fashion, the Van Heusen India Men's Week was started in 2009 following a tie-up between leading lifestyle brand, Van Heusen, and the FDCI. Fashion is not all about the ravishing ladies but also for the hunky gentlemen as well. The four-year-old men fashion event showcases the bewitching men wear by the well-known Indian designer. With such men oriented fashion events, the sales of a branded merchandise has reached its peak in the nation.
Involving the participation of leading fashion designers such as Ashish Soni, Raghavendra Rathore, Rajesh Pratap Singh, Manoviraj Khosla, Rohit Bal, Rahul Khanna and Rohit Gandhi, this male-oriented fashion show has resulted in Indian menswear growing and flourishing at a rapid rate.
Synergy 1 Delhi Couture Week
FDCI organises this fashion week, which brands itself as a tribute to Indian couture. The couture culture introduced in India by fashion experts like Tarun Tahiliani and Ritu Kumar has become very popular, with the former being considered as India's undisputed couture king at the moment. Top-notch fashion designers like Ritu Beri, Varun Bahl, JJ Valaya, Tarun Tahiliani and Feroze Gujral are also known to participate in this much-awaited event.
Bangalore Fashion Week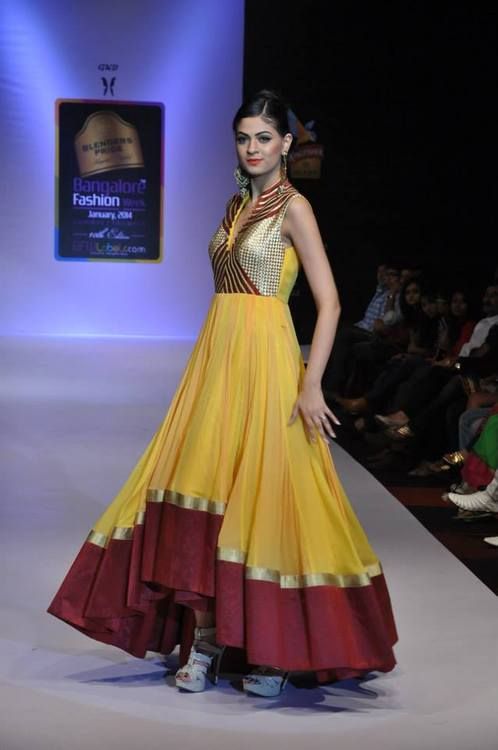 Established in 2009 and organised in the IT capital of India, the BFW is a bi-annual fashion event. With participation in the event is 'by invitation only', the prestigious fashion week provides maximum exposure to designers from South India to showcase their collections. Not only does the show provide aspiring designers with a noticeable debut, but also gives them a great opportunity to strengthen their footing in the domain. Bangalore Fashion Week is also known for organising world tours for the purpose of showcasing India's craftsmanship with past events being held in Bangkok and Dubai.
North India Fashion Week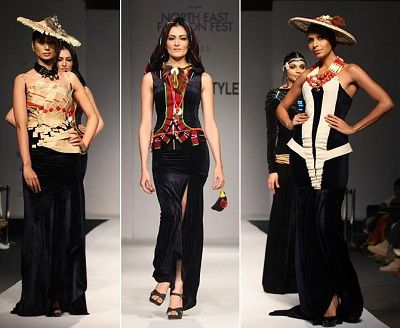 This fashion event is famous for exhibiting talent and rich craftsmanship from various parts of Northern India including Delhi, Mumbai, Kolkata and Uttar Pradesh. NIFW focuses on the verticals of retail, experience and consultancy for aspiring fashion designers as well as trendsetters.
Indore Fashion Week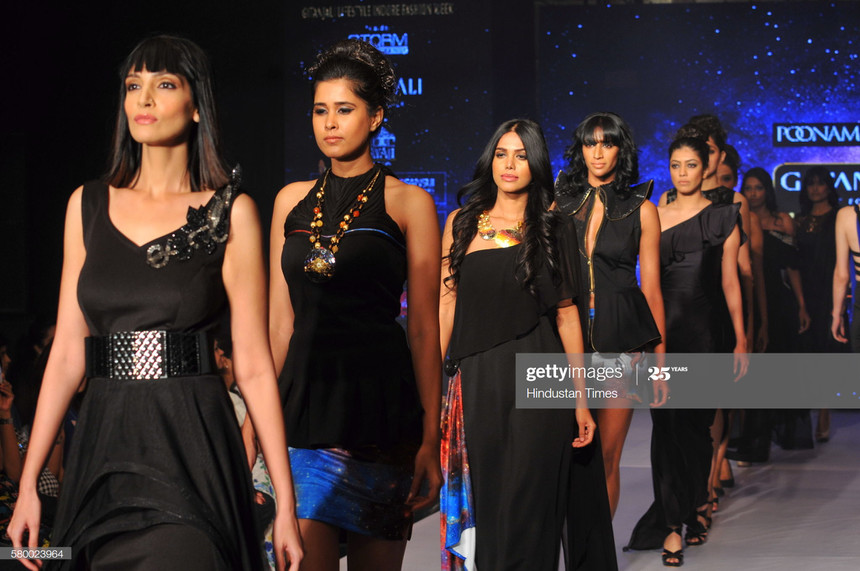 Powered by Blenders Pride, the event takes place every year in Indore. It is controlled by Storm Fashion Company and presents shows by top designers like Rocky S, Jatinn Kochhar, Riyaz Ganji, Poonam Vora and Sanjana Jon. Madhya Pradesh's traditional handwork like Begham and Anarkali Collection are often showcased in the Indore Fashion Week. The event is also known for exhibiting western and bridal trousseau.
Hyderabad Fashion Week
Hyderabad Fashion Week is run in partnership with Marvel Fashion week and is the brainchild of SAS Media Pvt.Ltd. Top designer like Neeta Lulla, Sanjeet Anand, Pria Kataria Puri, Abdul Halder, Swapnil Shinde, Jatin Varma, Kiran and Meghna, Koushik Ghosh & Sajda Rehmani, Arshad and Sonia participate in HFW and showcase their alluring design.