10 do's and don'ts for NID DAT 2021
10 do's and don'ts for NID DAT 2021 - National Institute of Design will conduct NID DAT prelims exam most likely in the fourth week of December 2020 in pen and paper. Aspiring students preparing for NID DAT entrance test must know the 10 do's and don'ts for NID DAT 2021 before the exam to avoid any blunder during the test. Students must remember that only one mistake can ruin their effort and ambition to get admission in National Institute of Design. To gain admission in the National Institute of Design, students must qualify both prelims and mains exam. By now, students must be familiar with NID DAT 2021 exam pattern and syllabus. Read the complete article to know all about 10 Do's and Don'ts for NID DAT 2021.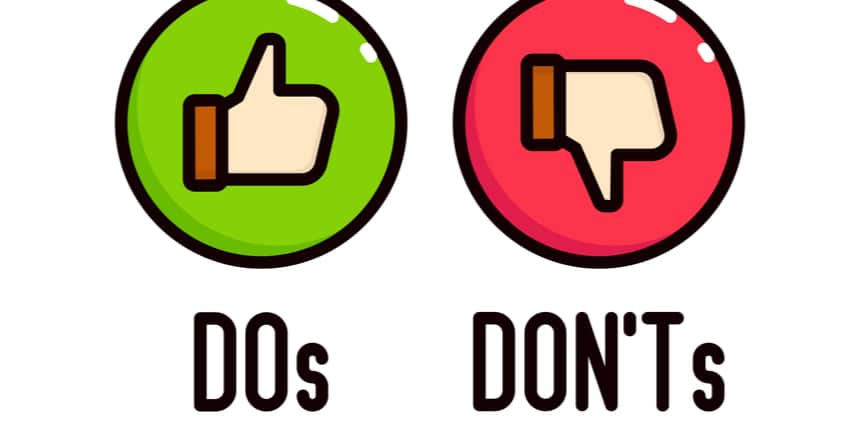 10 Do's of NID DAT 2021:
Time management: The students must be able to manage their time well, if candidates are unable to show their thoughts in the examination hall in the short timeframe, their drawing & artistic abilities are wasted. It is crucial to pay attention to maintaining speed.

Practice sketching-Practice basic sketching initially with dimensions, form, size and consistency of the line. Practice design and creative exercises every day.

Know the whole NIT DAT syllabus and exam pattern- It is very important to be mindful of the exam pattern and syllabus of the NID DAT 2021. The planning of a test must always commence after getting an in-depth knowledge of the syllabus and types of questions asked in the test.

General knowledge-Keep yourself updated with current affairs and general knowledge. To increase your overall visibility, read articles, books, brochures and check the work of your favourite designer.

Smart study- There is no question that hard work is important and essential to progress. Furthermore, Intelligent practise will minimise time and effort. Test-takers should prioritise their method of study and understand their strengths to work on weakness.

Carry your NID DAT 2021 admit card- Test-takers must carry their NID DAT admit card 2021 to the exam centre along with a valid identification card. None of the applicants will be permitted to enter the examination hall without the NID DAT admit card.

Reporting time- Applicants must Report on time to the NID DAT exam centre 2021 along with a colour printout of the admit card. This is important if the biometric information (thumb impression and photograph) is to be registered before arriving for the test.

Stationery - Test-takers are expected to carry their own stationery material for use in NID DAT 2021. Some of the items they need to bring are:
Ruler

Eraser

Sharpener

Lead pencils (of varying grades)

Black ballpoint pen (to mark the answers in the OMR sheet)
Identity proof-The applicant must carry to the NID DAT exam centre a valid photo identity proof (original) along with the admit card. Without proper proof of identification (college-issued identity card, driving licence, passport, PAN card, Voter ID, Aadhaar card or printed e-Aadhar card), applicants may not be allowed within the test centre.

Be confident- Lastly, the student must be confident. If you are stressed and lacks confidence you may lose some marks in exam. While, if you are confident there are more chances of you scoring well in exam.
10 Don't of NID DAT 2021:
Do not start late-Do not underestimate the amount of practise and time needed for this test. Starting as early as you can is the only way to crack NID DAT.

Do not spend a lot of time on drawing techniques - Do not use specialist drawing techniques such as oil painting and other colouring techniques. Candidates must remember that there are more markings on the drawing. It is advised to do a basic narrow sketch with just pencil colours. Practice more with dry colours as they are advantageous to use during the examination and take less time.

Don't spend much time on a single question- If the candidate doesn't know the answer of any question, they must move on to the next question and should try to attempt the question at last.

Don't use an A3-size sketchbook. Often use the A4 size since usually the regular size of the answer sheets is A4 in the exam.

During the exam, do not care about marks or high scores. Applicants should rest assured of their drawing and answer. Initially, draw with a light hand, requiring questions about drawing. They will finalise it now if applicants are pleased with their ratio and a rough description.

Don't waste time on redrawing- candidate should practice enough to save time. There should be very few chances of erasing or redrawing the sketches.

Do not forget to check the marks of the question before attempting - questions carrying higher marks must be tried in depth with all possible rough drawings, factors / perceptions (as requested) and a thorough final solution.

Do not sign the admit card prior to entering the centre -candidates must sign in the presence of the vigilante on the admit card. Applicants must also verify that their signature corresponds to the printed signature uploaded during registration.

Do not talk inside the examination hall with fellow test takers-candidates should not engage in any form of discussion with fellow test takers. You must clarify to the invigilators or officials of the test centre in the event of any concerns.

No electronic devices-Students must not bring to the examination hall any electronic gadgets, smart phones, or calculators. If there are extra items, a list of banned items will be placed up on the official website before the test.
Frequently Asked Question (FAQs) - 10 do's and don'ts for NID DAT 2021
Question: What are the items that candidates must not carry to the NID DAT 2021 exam centres?
Answer:
Candidates must not carry any electronic gadget and study, material to the NID DAT exam centres 2021.
Question: When is NID DAT 2021?
Answer:
NID DAT 2021 will be held in the fourth week of December in offline mode.
Question: What should I carry to the NID DAT exam centres 2021?
Answer:
Test - takers must carry the admit card of NID DAT 2021 along with a valid identity card to the test centres along with your own stationery.
Question: Can I carry the soft copy of NID DAT admit card?
Answer:
Candidates must carry the print out copy of the NID DAT 2021 admit card.
Questions related to NID DAT
Showing 221 out of 221 Questions