10 do's and don'ts for NID DAT 2024: The National Institute of Design (NID) has released the schedule for the NID DAT 2024 exam on its official website.. As per the NID DAT 2024 exam schedule, the registration process begins on September 8, and the NID DAT prelims exam 2024 is scheduled for December 24. It's essential for students who are gearing up for the NID Design Aptitude Test to familiarize themselves with the top 10 do's and don'ts for NID DAT 2024. This will help them avoid any unnecessary mistakes on the day of the exam. Continue reading to learn more about the 10 crucial Do's and Don'ts for NID DAT 2024.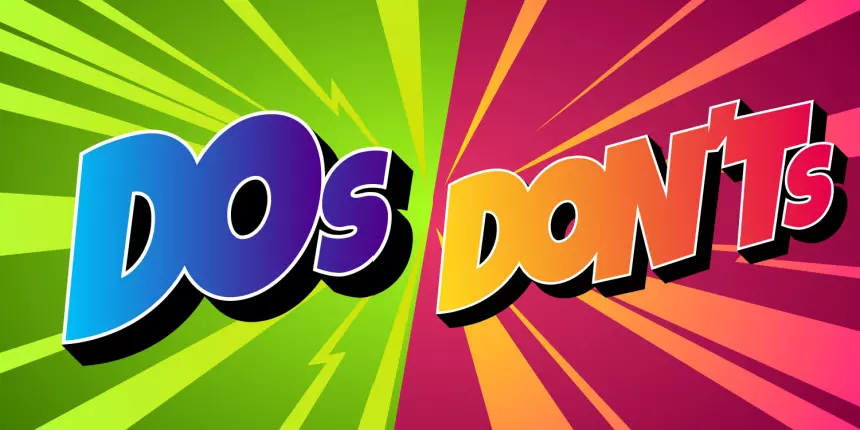 10 Do's and Don'ts for NID DAT 2024 - Check Here
Top College in India Offering Design
10 do's and don'ts for NID DAT 2024
It's crucial for candidates to understand that even the most diligent preparation can be undermined by falling into common test-taking pitfalls. Stress during the exam often leads to mistakes. Therefore, it's vital for candidates to stay composed and adhere to the top 10 do's and don'ts for the NID DAT 2024 exam.
Securing a spot at the National Institute of Design campuses requires candidates to pass the NID DAT exam. Being well-versed with the 10 do's and don'ts of NID DAT 2024 is of utmost importance for those preparing for the NID design entrance exam.
Also Read:
10 Do's of NID DAT 2024:
Effective Time Management - Students should be adept at managing their time. If they can't express their ideas in a limited time during the exam, their artistic and drawing skills may not be fully utilized. It's essential to focus on speed.

Practice sketching- Start with basic sketching, focusing on dimensions, form, size, and line consistency. Engage in daily design and creative exercises for practice.

Understanding the NID DAT Syllabus and Exam Pattern - Having a thorough understanding of the NID DAT syllabus and exam pattern is crucial. Always start your preparation after gaining a deep understanding of the syllabus and the kind of questions asked in the exam.

Staying Updated with General Knowledge - Keep abreast with current affairs and general knowledge. Enhance your overall awareness by reading articles, books, brochures, and studying the work of designers you admire.

Smart Study Approach - While hard work is important for success, smart study can save time and effort. Aspirants should strategize their study method, identify their strengths, and work on their weaknesses.

NID DAT 2024 Admit Card: It is mandatory for all candidates to bring their NID DAT admit card 2024 and a valid ID to the examination center. Entry will be denied to those without an admit card.

Punctuality: Candidates should arrive at the NID DAT exam centre on time, carrying a color printout of their admit card. This is crucial for the registration of biometric data (thumb impression and photograph) prior to the test.

Stationery: Candidates are required to bring their own stationery for the NID DAT 2024 exam. The necessary items include ruler, eraser, Sharpener, lead pencils, (of different grades), Black ballpoint pen (for marking answers on the OMR sheet)

Identity Verification: Along with the admit card, candidates must bring a valid photo ID (original) to the NID DAT 2024 exam center. Acceptable forms of ID include:
College-issued identity card

driving license

Passport

PAN card

Voter ID

Aadhaar card, or printed e-Aadhar card.
10. Be confident- Finally, it's important for students to maintain confidence. Stress and lack of confidence can lead to loss of marks in the exam. On the other hand, confidence can increase your chances of performing well in exams.
Top Design Entrance Exam
Also Read:
10 Don't of NID DAT 2024:
Begin your preparation early - It's crucial not to underestimate the amount of practice and time required for the NID DAT exam. The key to crack the NID DAT exam is to start as early as possible.

Focus on the essentials of drawing - Avoid specialist drawing techniques such as oil painting and other coloring methods. Remember, more marks are awarded for the drawing itself. It's recommended to create a basic sketch using just pencil colors. Dry colors are beneficial during the examination and take less time, so practice with them more.

Manage your time wisely - If you're unsure about the answer to a question, don't spend too much time on it. Move on to the next question and revisit the difficult one later.

Use an A4 size sketchbook - Regularly use an A4 size sketchbook as this is typically the standard size of answer sheets in the exam.

Focus on your work, not your score - During the exam, don't worry about marks or high scores. Be confident in your drawing and answers. Start by drawing lightly, focusing on questions about drawing. If you're satisfied with your ratio and rough sketch, you can then finalize it.

Avoid unnecessary redrawing - Candidates should practice sufficiently to minimize the need for erasing or redrawing sketches, thus saving time.

Consider the question's weightage before attempting - Questions with higher marks should be approached in depth, including all possible rough drawings, factors/perceptions (as requested), and a comprehensive final solution.

Sign the admit card at the center - Candidates should sign their admit card in the presence of the invigilator. It's also important to ensure that the signature matches the one uploaded during registration.

Maintain silence in the examination hall - Candidates should refrain from discussing with fellow test takers. Any queries or concerns should be addressed to the invigilators or test center officials.
Leave electronic devices behind - Candidates are advised not to bring any electronic devices, smartphones, or calculators into the examination hall. A list of prohibited items will be provided on the official website prior to the test.