Know all about Apparel Production
Apparel Industry is counted among the most dynamic industries globally, and it includes everything that we wear. Being a labour-intensive and growing industry, it demands to showcase creativity and uniqueness in the best possible manner. Students pursuing Apparel Production are taught different aspects of this field involving pattern making, designing, manufacturing, and more. They learn to design garments, the available materials and equipment, basic guidelines for manufacturing clothing, packaging, etc.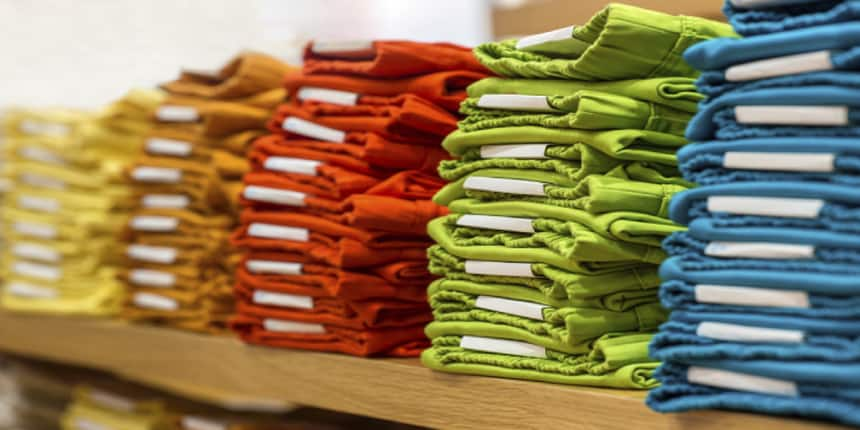 The scope of Apparel Production is vast with a huge number of career paths. It has become the first choice among creative minds when it comes to select a field after completion of schooling.
Careers360 explores here everything you need to know about Apparel Production including eligibility criteria, areas of study, top colleges, top employers, profiles, average salary, and more.
Eligibility criteria for pursuing apparel production
For pursuing a bachelor's degree in Apparel Production from a reputed institute, you should have passed class 10+2 qualifying examination from a recognised state or national board of education. The topmost fashion institute in India, National Institute of Fashion (NIFT), requires the applicants to have passed class 12 in Chemistry, Physics and Mathematics.
What do the students learn?
Apparel Production programme trains the students for various work profiles offered in the apparel-manufacturing sector. They are introduced to diverse essential streams such as apparel manufacturing technology, information technology, quality management, artificial intelligence, and many more.

They are also taught the rules governing aesthetic and design elements, along with fundamentals of management.

Students learn about different types of raw materials including fabrics as well as machinery involved in apparel manufacturing. They are provided extensive knowledge about production planning, merchandising, work study, and quality control.

They are trained in solving problems related to apparel design and development, manufacturing, and allied fields.

While pursuing this programme, the students are kept updated with the latest practices and methods in the area of sewn products as well. 
Areas of study
Following are topics that are taught to the students of apparel production:
Production: Spreading & Cutting of Apparel Products, Apparel Production Planning & Control, Computer Aided Production Planning, Lean Manufacturing, Sewn Product Machinery & Equipment's, Sustainable Production, Production & Operations Management, Product Analysis & Development
Industrial Engineering: Work Study for Apparel Manufacturing, Ergonomics, Plant Layout, Maintenance Management
Management: IPR, OB, HRM, Fashion Merchandising, Entrepreneurship Management, Costing of Apparel Products, Research Methodology, Apparel Quality Management, Apparel Standard Specification & Quality Control, Joint Venture & Acquisition, Project Management, Training & Development of Supervisors
CSR Information Technology: Computerized Data Management, Structured System Analysis & Design, RDBMS, MIS, VB.Net, Web Technology, ERP, E-Commerce, Auto CAD
Textile: Fabric Science, Dyeing, Printing & Finishing, Fabric Objective Measurement Fit Appreciation: Pattern Making, Apparel CAD & Grading, Garment Construction Research Project & Internships
Varied career fields
After completion of the course, students can pursue careers in the following areas-
Garment Production

Production Planning

Quality Assurance

Entrepreneur Development

Garment Fit

Human Resource Management

Industrial Engineering

System Analysis

Product Development

Software Application

Sourcing

Merchandising for retail and export

Project Analysis
Positions offered by the industry
Listed below are the positions that one can join after completing a course in Apparel Production:
| | | |
| --- | --- | --- |
| Sampling room coordinator | Supply Chain Manager | Production controller |
| Fit analysts | Retail planner | Merchandiser |
| Product development manager | Quality controller | CSR professional |
| Shop floor manager | Entrepreneur | Quality Assurance Professional |
| Production planner | Consultant | Industrial Engineer and Manager |
Top employers
Top employers that recruit graduates of Apparel Production are as follows-
Ambattur Clothing Company

Intimate Fashion India Pvt. Ltd

PT Ameya Living Style, Indonesia

Aquarelle India Pvt. Ltd

L T Karle

Rajesh Bheda Consulting

Arvind Mills

Laguna Clothing

Raymonds Pvt Ltd

AYN Accessories, Hong Kong

Landmark, Dubai

Reliance Brands

Banswara Syntex Surat & Daman

Laven Fashions Pvt. Ltd.

Sabyasachi couture Pvt, Kolkata

Bombay Rayon Fashions Ltd.

Leather Crafts (India) Ltd

Scotts Apparels Group

Brandix

Levi Strauss

Shahi Exports Pvt Ltd

Celebrity Fashions

Madura Garments

Silver Spark Apparel Ltd.

Color Plus

Matrix Clothing

Taffles

Evolv Clothing Company Pvt. Ltd

Modern Denim

Texport

Fiber& Fabrics International Pvt. Ltd

Neeti Clothing

The Shirt Company

Flipkart

Norwest Industries Limited, Bangladesh

Young Brand Apparel

 

Gokaldas Exports

Orient Craft

Indian Terrain

Pantaloons
Average salary for apparel production graduates
Depending on the brand, company and location, an apparel production graduate can expect to earn anything between Rs.1.4 lakh to Rs.5 lakh annually.
NIFT campuses offering bachelor of fashion technology in apparel production
The campuses of NIFT offering B.F.Tech in apparel production are mentioned below:
Check More Design Courses below:
| | |
| --- | --- |
| S. No | Know more about Design Courses |
| 1 | |
| 2 | |
| 3 | |
| 4 | |
| 5 | |
| 6 | |
| 7 | |
Also read:
NIFT Admissions: Know Top Campuses and Programmes
Life at Apeejay Institute of Design- Experience it with Chahat Gupta
Candidates must have good sketching and creativity skills, says K. Prasanna, Assistant Professor, SID