MITID DAT Syllabus 2022 PDF - Latest Subject/Section wise Syllabus Here
MITID DAT Syllabus 2022- MIT Institute of Design does not specify any official MITID DAT 2022 syllabus. However, according to the previous years' question paper candidates are scrutinized based on some parameters such as analysis ability, synthesis, and observation skills. Candidates must not only have an idea of the syllabus of MITID DAT 2022 but also go through the exam pattern as well.

Candidates must also practice the MITID DAT previous year's question papers as it familiarizes them with the types of questions asked and which topic has more weightage. MITID DAT entrance exam was held on April 3, 2022, in pen and paper mode. Check MITID DAT syllabus 2022 to know the different facets on which candidates will be examined and the topics that have more weightage.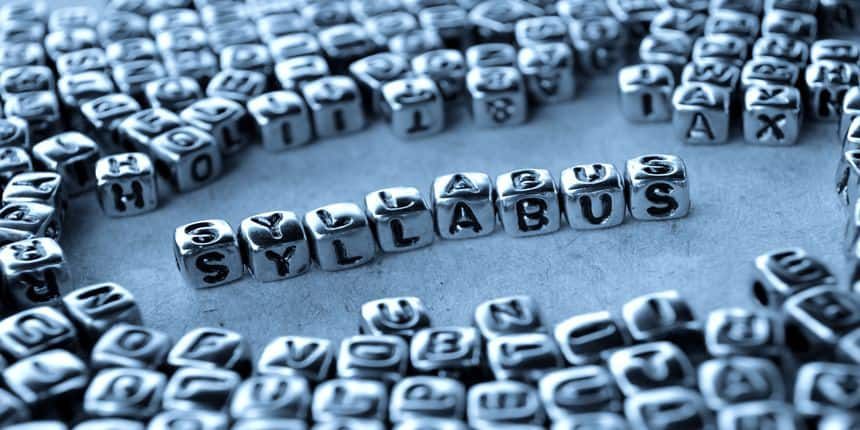 Top College in India Offering Design
MITID DAT 2022 Syllabus
The syllabus of MITI DAT 2022 is an important topic from which the questions of the entrance test are framed. Having insight into the MITID DAT syllabus will let aspirants know which topics they must focus on more. Candidates can prepare for the entrance exam accordingly after being familiar with MITID DAT 2022 syllabus. Check the MITID DAT syllabus 2022 which is listed below.
Drawing

Sketching

Logical Reasoning

General Knowledge

Observation Skills
Assessment criteria for MITID DAT 2022
Aspirants will be judged on the basis of the following parameters in the MITID DAT entrance exam.
Skill Assessment Criteria
| | |
| --- | --- |
| Particulars | Assessment Criteria |
| Curiosity | Aspirants must be curious to know and have the urge to ask questions constantly and find out the what's, whys, how's whens about the world and beyond. |
| Synthesize | Candidates must be of interpreting, planning, and finding solutions to any problem. |
| Emphasize | Aspirants must be sensitive towards the requirement and emotions of others, including different situations. |
| Independent Viewpoints | Test-takers must have their individual viewpoints which means have their own opinion |
| Ability to Communicate | Candidates must be prominent in communicating both non-verbally and verbally |
| Tenacious | Candidates must be passionate and have a never give up attitude |
| Handle different media | Candidates must be able to handle different materials and media |
| Awareness | Candidates are required to stay updated on what is happening around the world |
| Team player | Candidates must be good team players. They must be able to work in a team |
| Analyze | Candidate must have the ability to understand the situations |
| Internalization | Students must be able to identify the constituent elements of a particular thing and be able to make an assessment |
| Keenness of perception | Aspirants must be a keen observer |
| Learning to learn | Students must not be confined to merely bookish knowledge. They must be flexible. |
| Pattern seeking | Candidates must be able to relevantly categorize information that is available and also determine important constituents. |
Top Design Entrance Exam
MITID DAT Exam Pattern 2022
| | |
| --- | --- |
| Particulars | Details |
| Examination mode | Offline |
| Medium of the exam | English |
| Maximum Marks | 100 |
| Total number of questions | 10 |
MITID DAT Question Papers 2022
Solving previous year question papers of MITID DAT is an important part of preparation. Candidates will be acquainted with the types of questions and the topics from which questions are repeatedly asked. Practicing the sample paper of MITID DAT will also help them enhance their time management skill. Candidates will also get to know about the marks allocated for different questions by solving the previous years question papers.
Browse Top Fashion Design Colleges by Location
Frequently Asked Question (FAQs) - MITID DAT Syllabus 2022 PDF - Latest Subject/Section wise Syllabus Here
Question: What are the main topics from MITID DAT syllabus 2022 that I should study ?
Answer:
Based on past years' question papers, some of the topics from which the questions asked in the entrance test are logical reasoning, general knowledge. Candidates are assessed on their drawing and sketching ability as well.
Question: Will the authorities provide official MITID DAT syllabus. If yes, then where can I get it from?
Answer:
The authorities do not provide any official syllabus for the design aptitude test. Some of the topics from which questions asked are mentioned in this article.
Question: What kind of questions are asked in sketching?
Answer:
You can be given a situation and asked to visualise the same and sketch it. Depending on your imagination and sketching, marks are awarded.
Question: Any specific topics which I need to study from General Knowledge?
Answer:
It is slightly difficult to mention the specific topics from which questions are asked in the General Knowledge section. As the name suggest, general questions are asked and sky is the limit while you prepare for it .While answering the questions, candidates have to also apply logic in certain questions.
Question: Will the institute define the MITID DAT syllabus?
Answer:
The institute does not release any official syllabus for the entrance test. On the basis of the previous year questions, some of the important topics are given in this article.
Question: When will the authorities conduct MITID DAT entrance test?
Answer:
MITID DAT 2022 was held on April 3 in offline mode.
Questions related to MIT ADT University
Showing 2 out of 2 Questions
589 Views
can you give me cutoff for aerospace engineering in mhtcet for mit adt??
Hello Aspirant..
GATE AE Cutoff
All India rank for admissions to Aerospace Engineering is given below:
Institutes
Degree
General
OBC
SC
ST
PH
IISc, Bangalore
ME
750
690
650
650
700
M.Sc./PhD
500
500
350
350
450
IIT, Kharagpur
M.Tech.
606
611
395
328
NA
IIT, Kanpur
M.Tech.
500
470
450
450
400
IIT, Madras
M.Tech.
700
680
650
650
650
MS/PhD
(BE/B.Tech >= 80 %)
500
480
450
450
430
IIT, Bombay
M.Tech.
380
342
253
253
252
IIST, Kerala
M.Tech.
677
671
580
580
550
DIAT, Maharashtra
M.Tech.
620
600
580
580
550
IIEST, West Bengal
M.Tech.
350
310
253
253
250
BIT, Jharkhand
ME
300
276
242
242
220
MIT, Chennai
ME
300
280
260
260
220
192 Views
what is the cut off of MIT ADT bioengineering for btech?? In terms of CET
MIT ADT PUNE is one of the top institutes of Maharashtra especially for studying COMPUTER SCIENCE ENGINEERING. They have a very good placement opportunities as a lot of big companies approach here. So obviously due to competition it will surely be having a high cutoff. Last year it had cutoff close to around 157 marks for CSE. Having said this, cutoffs change and vary from year to year as they depend on various factors like number of candidates appearing and also the paper level difficulty, etc. So try to aim and score 160/165 and above to stay on the safer side and ensure your seat into your dream college.
Kindly refer to the site below to get a more detailed information...
https://engineering.careers360.com/tags/mit-adt-university
Best wishes. Thank you.