How to prepare for NIFT Entrance Exam in 1 month- Tips by NIFT Kolkata Professor

As part of special features on NIFT entrance exam preparation, Careers360 brings to you expert interview with Ms. Sreenanda Palit, Associate Professor & Centre Coordinator (Fashion Communication), National Institute of Fashion Technology Kolkata. In this interview, Ms. Palit shares preparation tips of NIFT entrance exam for the aspirants, who will be appearing for the entrance exam on January 20 (for admission year 2019).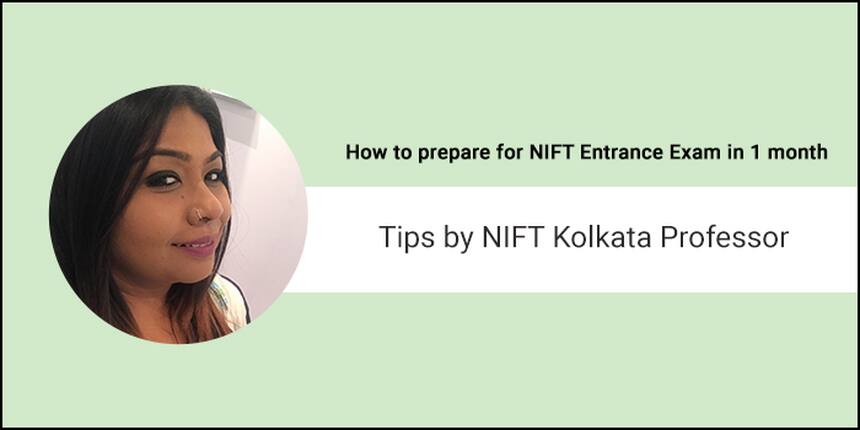 According to Palit, "Students need to keep pushing their sketching skills and speed for solving multiple choice questions in the last month." She advises them to build and strengthen their concepts by solving as many problems as possible in order to score high in NIFT entrance exam. The professor also suggests that your aim should be to complete the exam and have time for revision as well.
Read the interview below to know how to prepare for NIFT entrance exam in one month.
Excerpts from the interview:
Careers360- Nearly a month is left for NIFT entrance exam 2019. What preparation plan and strategy do you suggest to the students?
Sreenanda Palit- The students should try to remain creative as much as possible. They should also keep themselves updated on various fields of general knowledge including fashion, textiles, craft, along with traditional processes like printing, weaving and embroidery.
Careers360- Which books would you suggest to the aspirants in this final phase of preparation?
Sreenanda Palit-  Specific books cannot be prescribed for the NIFT entrance exam. However, several books are available in market for practice and reference. These will help in improving speed for the general aptitude section. Some of the books that students can refer to score in the exam are given below:
McGraw Hill Education
NIFT Exam Guide by Verma
Concepts of Pattern Grading
NIFT Exam Guide by Dr. R. P. Datason
NIFT Entrance Exam- Self Study Guide
Popular Master Guide NIFT by R. Gupta
Bright Careers Guide NIFT Entrance Exam
Arihant NIFT Entrance Exam Self Study Guide
NIFT Entrance Examination (Guide) by D Mitta
NIFT Entrance Exams: Ultimate Success Series By Surendra
Careers360- What are the important topics for CAT and GAT that you think students must focus on to perform well in NIFT entrance exam 2019?
Sreenanda Palit- For CAT, one needs to be creative and original in using colour and illustration. Students are evaluated on the basis of their intuitive, power of observation in concept development and design ability. Often we get similar work, and it is understood that the student must have undertaken classes in a preparatory coaching where all are given the same input. NIFT entrance exam is about those who can think differently and can communicate the same through unique artwork and words.
For GAT, good speed and tricks to solve general aptitude questions is important. Candidates will be judged for their quantitative, communication , English comprehension, general knowledge and current affairs and analytical ability. The total number of questions asked in GAT Bachelor of Design is 100 while 150 questions is asked in Bachelor of Technology. 
Careers360- What changes in strategy should a student needs to bring in preparation in the last one month?
Sreenanda Palit- One needs to keep pushing one's skills in sketching and speed for solving the multiple choice questions in the last month. A good command over English will be of additional help for students attempting CAT. Often students fail to express themselves because of inadequate language skills, and thus lose out marks. 
Careers360- Time is a crucial criterion in attempting NIFT entrance exam. Any suggestions on how a candidate should go about answering?
Sreenanda Palit- One must first answer all the questions that one is sure of. So, the easy ones, as per one's knowledge, should be answered first. After that, the candidate should go about with the ones where some logical thinking or indecision resides. These questions will consume a lot of time.
Careers360- How should a candidate prepare for the exam day as lot of students get nervous and lose concentration? What would you advise to ensure they feel confident and give their best shot during the exam?
Sreenanda Palit- The mantra is to remain cool and try to give the best shot. You should spend few minutes to go through the question paper first before starting to attempt. Don't get nervous if you see a neighbouring test-taker doing well or drawing something differently. You must concentrate on your own work only.
You should decide well in advance about how much time will you be giving to each section. Some buffer time should also be kept in case you get stuck at a difficult juncture. The aim should be to finish the exam and have time for revision as well.
Careers360- Any message you would like to give to the candidates?
Sreenanda Palit- Many students crack NIFT entrance exam in their second attempt, after gaining practical insight from their first experience, which no book or coaching center can give. So don't lose hope in case you fail to crack it in the first effort. If you can't clear the exam, then it is important to remember that this is not the end of the world.
Here's wishing all aspirants great luck. If you are creative and think out of the box, then you will be with us at NIFT.
Also Read:
Know all about Fashion Communication
National Institute of Fashion Technology, Kolkata Updates and Articles