Best Design Books for Design Students: It doesn't matter if you are a student studying design or just hearing the word "design thinking" and being quiet in meetings and referring to it on Google. There are always things you can learn about design to benefit from whatever you do. So, we approached the professors of the top best design college and asked them what books they would recommend getting their feet wet in design. Each institute submitted five books covering the fields of design, from industrial design to graphic design to interior design and more.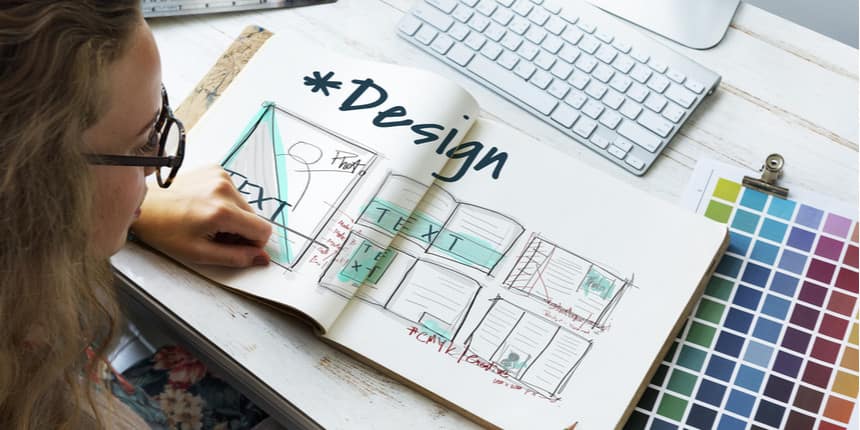 Top 10 Best Design Books for Design Students in 2023
Top College in India Offering Design
Top 10 Best Design Books for Design Students in 2023
The designers come from different backgrounds, some have studied their craft in school and others are self-taught. Regardless of your training, you must understand the basics of the field. The top 10 best design books below will give you that solid foundation - helping you think differently about design and inspiring your next design project.
A well-rounded collection of design books covers more than just basic how-to guides. From design tricks to books for pure inspiration, we have divided our recommendations into five categories so that you can create a balanced bookcase that is interesting, challenging, and inspiring:
Color, typography, and structure

Inclusive design

Business and professional development

Books to get you excited about the power of design

Books that make you think
Also Read:
Best Books for Design Students in 2023
These design books prepare you for a successful career as a designer by teaching you a variety of topics with a trusted center with high strategies as a designer. These books are actively researched or frequently quoted by members of our design community. If you are looking for a list of the best design books to read, this is it.
Whether you are a graphic design student, a designer looking for design principles, or a senior product designer looking for books on design systems, you can be sure that we take this list seriously for your own design needs. Use this design book list as a guide to what to read, study and practice to better understand as a designer.
Top Design Entrance Exam
Must Read Books for Design Students
Design Books
Description

Name: Graphic Design School: The Principles and Practice of Graphic Design



Author: David Dabner, Sandra Stewart, Eric Zempol




Publisher: Wiley




This book is a must-pick if you are just starting on the graphic design path. Critics have repeatedly stated their preference for book examples in books, magazines, websites, and even mobile devices.

Name: Graphic Design Theory: Readings from the Field



Author: Helen Armstrong




Publisher: Princeton Architectural Press




This book is suitable for graphic designers of all ages and experience levels. Any graphic designer needs to understand the technical aspect of the design.




Name: 100 Years of Swiss Graphic Design




Author: Christian Brandle, Barbara Junod, Bettina Richter, Karin Gimmi, Museum of Design Zurich




Publisher: Lars Muller Publishers




This geographically developed branch of graphic design has provided many of its enduring components to the design industry.




With discussions about the 100-year path taken by Swiss typography, photography, advertising, editorial design, and writing patterns, this book presents just how influential this design form has been.

Name: Universal Principles of Design



Author: William Lidwell, Jill Butler, Kritina Holden




Publisher: Rockport Publishers




This book covers the psychology of design and how it affects consumers and has an amazingly complete overview of the Golden Ratio. Also, it captures the full breadth of Universal Design.

Name: Grid Systems in Graphic Design



Author: Josef Müller-Brockmann




Publisher: Niggli




This book focuses on both ideological and practical. It not only explains the background and history of grid design but also provides step-by-step instructions on how to use each grid system.




Although the phases are part of the Swiss School of Design, this book demonstrates why they deserve their writing.

Name: 100 Ideas That Changed Graphic Design



Author: Steven Heller, Veronique Vienne




Publisher: Laurence King Publishing




This book tries to cover the first 100 moments throughout the colorful history of graphic design. When set chronologically, the book covers everything from technology to the stylistic aspects of graphic design.




It also includes discussions of how objects have been affected by graphic design ideas and how patterns have changed over the past century or so.

Name: Unflattening



Author: Nick Sousanis




Publisher: Harvard University Press




Why such praise? This is because the book puts in its head the belief that words change metaphor when explaining ideas and changes traditional educational work.




To do this, Chausanis used "visual thinking", all his pages are designed in the same variation as below.

Name: Designing Design



Author: Kenya Hara




Publisher: Lars Muller Publishing




This book pays tribute to these Japanese designers who are often less well-known than many of their Swiss and German contemporaries.

Name: Interaction of Color: 50th Anniversary Edition



Author: Josef Albers




Publisher: Yale University Press




Although the previous guide covers a wide range of topics on how to use color effectively in your work, this book focuses more on that.




In this revised and updated version, the author has broken the complex color principles.

Name: Graphic Design: The New Basics (Second Edition)



Author: Ellen Lupton, Jennifer Cole Phillips




Publisher: Princeton Architectural Press




This revised and expanded edition covers the basics of graphic design and is a home away from home for every beginner designer.
Browse Top Fashion Design Colleges by Location