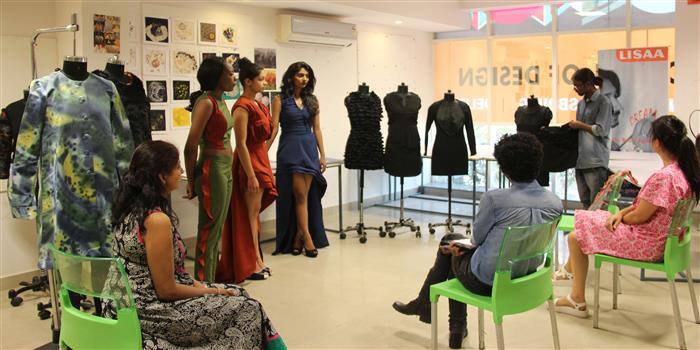 LISAA CAT 2018- LISAA School of Design will be conducting Common Admission Test (CAT) 2018 for providing admissions across various undergraduate (UG) programmes. LISAA CAT 2018 qualified candidates will be offered admissions in Fashion & Textile Design, Interior, Environmental & Product Design and Graphic, Web & Illustration Design. As many as 30 seats will be available per batch. Aspirants willing to get admission to these professional fashion and design courses can apply in any mode- online or offline. Admissions will solely be given on the basis of candidates' performance in LISAA CAT 2018. The entrance exam will be held in online as well as offline mode. Application form of LISAA CAT 2018 will be available throughout the year. Students seeking admission to the design school can check complete details about LISAA CAT 2018 including eligibility criteria, admission criteria, application form, and result on this page.
LISSA CAT 2018- An Overview
Exam conducting body- LISAA School of Design

Exam name- LISAA CAT

Total seats- 30 per batch

Registration mode- Online and offline

Programmes offered:

a) Graphic, Web and Illustration Design (3 years)

b) Fashion & Textile Design (3 years)

c) Interior, Environmental & Product Design (4 years)
LISAA CAT Eligibility Criteria 2018
According to the eligibility criteria of LISAA CAT 2018, candidates are required to have appeared or passed the senior secondary school examination or equivalent, 10+2 model from any board from any stream (Science, Commerce & Humanities).
LISAA Admission Process 2018
Option 1- LISAA CAT 2018 Online Exam
LISAA CAT 2018 will be held by the design school in online mode. Candidates can take the entrance exam from their home by following below mentioned steps:
Step 1- Log in and register for all India LISAA online CAT 2018.
Step 2- Applicants will receive a password. 
Step 3- Candidates will be given six hours to complete the exam and submit their answer sheet.
Step 4- Result will be declared within 24 hours.
Step 5- LISSA School of Design will conduct personal interview of candidates via Skype, phone or in person along with portfolio assessment.
Step 6- Candidates will be required to pay the fees within ten days of receiving confirmation.
Option 2- LISAA CAT 2018 Offline Exam
Candidates appearing for offline mode of LISAA CAT 2018 should first log in and register for the entrance test.

The institute will announce LISAA CAT 2018 result in 24 hours followed by personal interview and portfolio assessment.
Registration fees of Rs.60,000 will have to be submitted by the selected candidates. It will be adjusted in the first year fee. 
LISAA CAT Application Form 2018
Candidates can fill application form of LISAA CAT 2018 throughout the year. Check complete details about LISAA CAT 2018 application procedure below:
Application fee: Rs.1,100/ (available both online and on campus)
Paid via:
For online- Credit/Debit Card/NEFT/Net Banking

For offline- Bank Deposit/Demand Draft
Following personal details have to be entered by applicants in LISAA CAT 2018 application form-
Full name

Date of birth

Father/Guardian's name

Father/Guardians contact number

Gender

Nationality

Address

Country

City

Telephone

Mobile Number

Email

Class XII marks

Course applied
LISAA CAT Exam Pattern 2018
The institute has not announced the LISAA CAT 2018 exam pattern, but candidates can get a fair idea about it from the officially released sample papers. According to the test pattern of LISAA CAT 2018, the entrance exam will be of 75 marks. Test takers will be given two hours to complete the paper. There will be subjective as well as objective questions.
LISAA CAT Sample Paper 2018
The design school has released the sample papers of LISAA CAT 2018 for candidates, who will be appearing in the entrance exam. The LISAA CAT 2018 sample papers mention that candidates will be given two hours to complete the 75 marks paper.
Download LISAA CAT sample papers from here to have an idea about LISAA CAT 2018.
LISAA CAT Result 2018
The school of design will announce the result of LISAA CAT 2018 (online and offline) in 24 hours. It will be followed by personal interview and portfolio assessment.
LISAA School of Design Contact Info
LISAA School of Design
Address- A-11, Okhla Phase II New Delhi
Telephone- +91 11 41010553
Extension- +91 11 41008459
Mobile- +91 9717071664, +91 9818882303
Email- [email protected], [email protected]
Website- https://www.lisaadelhi.com/
*The article above is based on last year's official notifications. It will be updated as soon as the official notifications are made for this year.