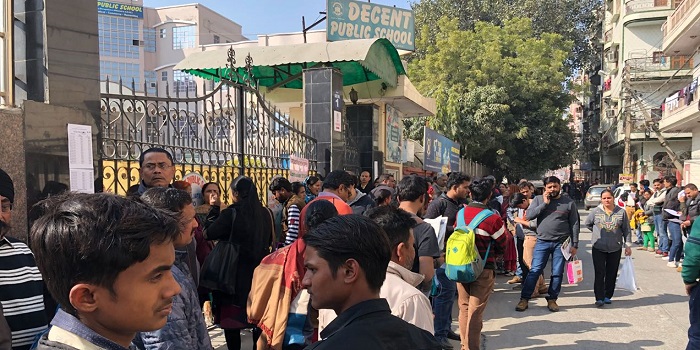 NIFT Entrance Exam 2018 Student Reactions - NIFT entrance exam 2018 was conducted on January 21, for admissions to Bachelor of Design (B.Des) and Bachelor of Fashion Technology (B.F.Tech) programmes across 16 campuses of National Institute of Fashion Technology. Candidates seeking admissions to NIFT B.Des. programme appeared for Creative Ability Test (CAT) as well as General Ability Test (GAT). For admission to B.F.Tech. programme, candidates had to take GAT only. The national level fashion and design entrance exam, NIFT written test 2018, was conducted as per the following schedule-
NIFT Entrance Exam College Predictor
Know your admission chances
Use Now
NIFT Entrance Exam 2018 Timings
Programme

Test

Test Timings

Bachelor of Design

CAT

10 am to 1 pm

GAT

2:30 pm to 4:30 pm

Bachelor of Fashion Technology

GAT

10 am to 1 pm
The entrance exam was held as per the following pattern-
NIFT 2018 Creative Ability Test (CAT) for Bachelor of Design (B.Des.)
CAT examined candidates' intuitive ability, observation power in the development of a concept and design ability. Along with that, creative and innovative use of illustration and color skills were tested.
NIFT 2018 General Ability Test (GAT) for B.Des.
Programme

B.Des.

Paper name

GAT

Language

English

Test duration

2 hours

Exam mode

Paper Based Test (PBT)

Sections:

English comprehension

Quantitative ability

Communication ability

Analytical ability

General knowledge and current affairs

Number of questions

25

20

25

15

15

Total

100
B. NIFT 2018 GAT for Bachelor of Technology (B.F.Tech.)
Programme
B.F.Tech
Paper name

GAT

Language

English

Test duration

3 hours

Exam mode

Paper Based Test (PBT)

Sections

Quantitative ability

Communication ability and English comprehension

Analytical and Logical Ability

General Knowledge and Current Affairs

Case study

Number of questions

30

45

25

25

25

Total

150
Note- There was no negative marking.
Around 22,000 test takers appeared for the exam in 32 cities across India. Careers360 presents here NIFT entrance test 2018 students' reactions right from the exam centres. We interviewed few candidates to understand their preparation level, exam experience, question analysis, the difficulty level of the exam, and their overall performance.
The NIFT 2018 examination got over at 1 PM for B.FTech. aspirants and at 4:30 PM for B.Des. candidates. Careers360 gets you the reactions of the examinees and their analysis of the test paper.
Aakriti: There were three questions in CAT which we had to complete in three hours. One was to make a boat with a piece of paper, just like origami. Another question was on how to change a bulb.
Parth: We had to draw a bag for wedding or picnic, and to describe it properly in 5-6 lines. One question was on drawing a geometrical figure that describes your personality.
According to the test-takers, GAT was very easy and the questions were on the expected lines. Check below what they had to say about the difficulty level:
Sakshi: The paper was not that difficult. English section was a bit confusing though. I answered all the questions asked in GK section effortlessly. Questions regarding education, technology, etc. were asked in case study section. Reasoning was of basic level. 
Aditi: I found the paper easier than my expectations, as I had already practised a lot of sample papers during the preparation phase. Mathematics was okay, GK a bit tough, English good, and case study a little tricky. Analytical questions were also easy.  
Most of the candidates found the paper to be of easy to moderate difficulty level. They opined that they didn't feel any need to enrol themselves for coaching classes during the preparation phase. Speaking about the same, Jasmine shared, "It is not important to join a coaching institute. You can prepare very well with self-studies only. The best book according to me is Arihant". Vibhu, a NIFT Delhi aspirant, joined in saying, "I also didn't take any coaching classes for this entrance exam. I studied on my own, and solved sample papers as much as possible". 
Also Read:
More like NIFT Entrance Exam
Questions related to NIFT Entrance Exam