An insight into UPES School of Design Academics, Curriculum, Placement - Interview with Dean, Manisha Mohan
A career in design is both exciting and challenging. Design is around us - from the clothes we wear to the things we use daily. UPES School of Design is one of the premier design institutes in India and is well known for its academic excellence. The new curriculum framework at the University of Petroleum and Energy Studies - ABLE (Academic Blueprint for Learning Excellence) helps students to discover, explore, challenge and gain experience in different fields. Careers360 interviewed Manisha Mohan, Dean of UPES School of Design to know about the curriculum, academics, facilities, internship, placement, and more about the institute.
Stay up-to date with UPESDAT News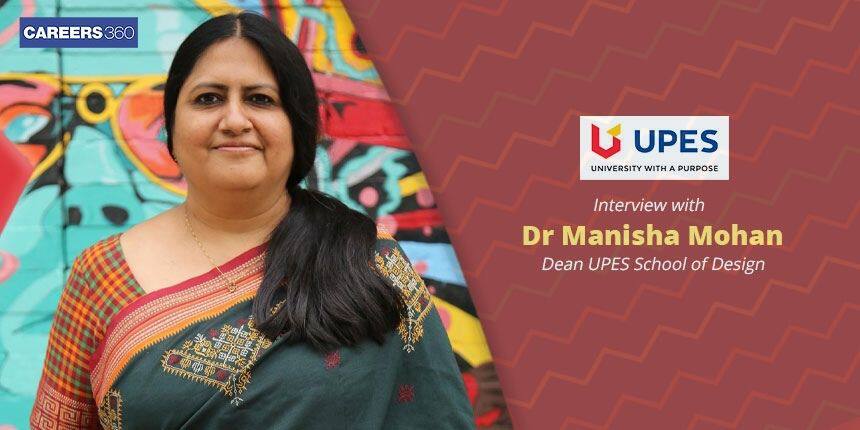 Before joining UPES School of Design, Manisha Mohan was Chief Design and Innovation at Tata Interactive Systems (TIS), Mumbai. Dr. Manisha Mohan is an alumna of the National Institute of Design. Read the complete interview here.
To view the interview with Manisha Mohan, Dean of UPES School of Design, click here.

Careers360 - Can you please let us through the journey of UPES School of Design since the day it has started.
Dr. Manisha Mohan - UPES school of Design was started in 2013. It was started as an offshoot of the School of Engineering. UPES School of Design started with 10 Master's students and 3 faculty members. In the present day, there are nine different design specializations with around 700 students.
Careers360 - What all specializations are offered in UPES School of Design?
Dr. Manisha Mohan - There are 9 specializations namely Product and Industrial designing, Transportation Design, Fashion Design, Interaction Design, Graphic Design, Interior and Retails Space Design, Digital Design and Game Design.
Careers360 - What is the academic process in UPES School of Design?
Manisha Mohan - Well, if we talk about the academic process, we have a common foundation in the first year. Students are trained with the foundation of sketching and drawing, color, element and principles of design as well as understanding the design process and learning to think like a designer. And in second year, students move into their specialization. One thing special about UPES School of Design is that we don't force students to take specialization right away at the beginning of their academic career. We give them the opportunity to experience in the first year and make a choice of specialization in the second year. Also, the faculty helps students in choosing the specialization. The first path of the specialization course is skill building, learning the tool and understanding the concept. And in the third year of the specialization course, students get into more application learning, solving certain problems and getting industrial exposure. We arrange industry expertise sessions to teach students on various topics.
Again UPES School of Design arranges industry internships for the students so that they can have a holistic development. And in the final year, students get exposure to large projects where they spend around 4 months in the industry and get inputs from them in terms of their knowledge of design.
Careers360 - What is 'School of Life/ABLE (Academic Blueprint For Learning Excellence)'? How does it help the students to groom themselves?
Manisha Mohan - UPES focuses on students ability to choose the right career path whether it may be as entrepreneurs or joining a company or getting into academics. We want the students of UPES to be empathetic towards the environment, creative and do things for the betterment of the community. We want the DNA of the UPES students to be recognisable of being holistic individuals. So, we offer School of Life as a sort of service and all the students go through 45 credits for School of Life which includes life skills, signature courses, exploratory courses and many more. We are training the students for better communication skills, leadership skills and also personal branding and how to connect with people around them. We gave the students in-depth knowledge and learning of cutting edge technologies as well as understanding of the world that includes the environment and ecosystem in which we exist.
And about the exploratory component which I mentioned earlier, it is where students can explore other disciplines or other schools. For instance if I am a fashion designer student and I want to gain certain business skills, then I can do exploratory courses with UPES School of Business. And if I do a sufficient number of exploratory courses with the School of Business then I can even own a minor in Business. So, some of this interdisciplinary learning gives multi career opportunities to the students as they have knowledge of two disciplines.
Careers360 - What is the admission process of UPES School of Design?
Manisha Mohan - The university conducts UPES Design Aptitude Test (DAT) for the students seeking admission in design domain at UPES School of Design. It is an online test. Aspirants need to qualify the UPES DAT to secure admission in the university. Else, students can apply for admission to B.Des and M.Des in UPES School of Design through UCEED and CEED valid scores.
Careers360 - How is the placement facility at UPES School of Design?
Manisha Mohan - Firstly, I am proud to say that UPES School of Design has 100% placement. Also, the students have been placed with a very good median salary. We support our students in their entire journey. We have industry mentors who guide students to understand what the industry really wants and what is the present cutting edge in design. And of course, the internship and the exposure students get from the industry expertise session helps them in building their career. For the design aspirants, a portfolio is really essential. It is through a portfolio that they can showcase their skill and tell their story to the world. So, we help students in making a creative portfolio so that they can express their story to the potential client/industry in an effective way.
Again we have a Career Services Cell which is actively in touch with the industry. Our department works very closely with the Career Service Cell for the better opportunities of the students.
Careers360 - Are there any scholarship facilities available in UPES?
Manisha Mohan - Yes, there are scholarships for girl students, domicile of Uttarakhand, as well as for the students whose parent's income are below a certain income level.
Careers360 - How does 'NAAC A' rating help the UPES School of Design to design their own course for the betterment of the students and outcome of the university?
Manisha Mohan - NAAC really helps us to put the system in place that works well and supports the students. I felt it is a very holistic framework which looks at every aspect in terms of students progression or faculty development, research as well as internationalization. What really matters is the students journey towards success. So NAAC A rating already says that we have a good system in place that helps divining curriculum with good industry input which assists a great development for the students future.
Careers360 - How are the internship and project opportunities on the campus?
Manisha Mohan - Internship and projects are two different things. As a School of Design, we have a project based learning in every semester. We start giving projects to the students from the second year. We have a 5-6 credit project in every specialization where students apply their learning (theories) on those projects.
For instance, graphic design students will be learning advertising, branding etc. So they will get a project where they can apply their knowledge and solve the real problem. The projects give them the experience of working on real issues.
And for the internship, we are well connected with the industries. Even during the pandemic, we managed to get online internship for our students with some of the top companies like TIS, Mauritius etc.
Careers360 - How are the hostel facilities within and outside the campus?
Manisha Mohan - Maximum of the students stay in campus hostel. We have around 12000 students in our university. So, we have a private hostel outside the campus. We encourage first year and girl students to stay in campus hostels. Even the private hostels are very close to the university.
Careers360 - Anything you want to say to the UPES School of Design aspirants?
Manisha Mohan - There are many things which make UPES School of Design different from other School of Design. Most of the faculties are either from the NID, IICD, MIT. What I feel special about UPES is that it is a multi-disciplinary environment. We have a School of Engineering, Computer Science, Modern Media, Business and many more within the same campus. We understand the trending technology and try to give the cutting-edge infrastructure as well as experienced in the classroom to the students. Our industry orientation is again a huge plus point for us and especially for the design, it is very important as it is an applied profession.
UPES Design Aptitude Test (UPESDAT)