Know top 5 reasons to pursue Fashion Design
Top 5 reasons to pursue Fashion Design - Exciting, competitive and swift paced- these three words describe the fashion industry in the real sense. Thousands of graduates join this industry every year with the hope of making a mark through their creative insights. Known for its glamorous reputation, the fashion industry requires smart professionals who are fearless and ready to dedicate themselves to the pursuit of fresh design elements. If you think that you fit the case but are confused about choosing fashion design as a career, then read the article below to know the top 5 reasons why this field is worth your time and effort.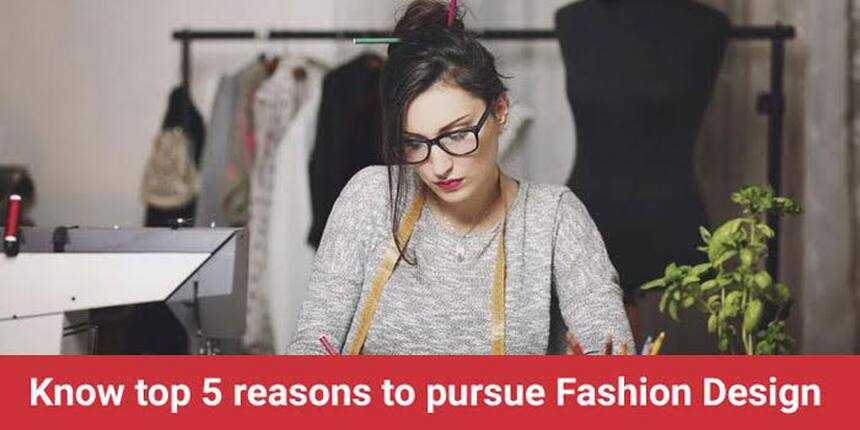 Here are the five reasons why you should pursue fashion design and make a career in this field:
Reason#1: Quench your thirst for creativity
If you are a highly creative person who loves to design not only apparels, but also accessories such as handbags, shoes, scarves, etc., then you can satisfy this desire by brushing up your skills and enrolling in a fashion design course. Your passion for involving beautiful embroideries, drapes, pleats and laces in your own creations can be followed successfully while you pursue this course.
With the increasing number of fashion conscious people across the world, the demand for fashion designers has also been growing at a rapid pace. Thus, pursuing a design course will not only prove fruitful for your career, but also it will give you the liberty to chase your dream.
Reason#2: Opportunity for leaving your comfort zone
There are many professionals who strive for challenges and require a certain amount of pressure in order to perform extraordinarily. If you are one of them, then fashion industry will definitely provide you with a perfect working environment for prospering.
The famous saying of Greek Philosopher, Heraclitus, "Change is the only constant in life", holds completely true for the fashion industry. Trends keep entering and exiting this dynamic field on daily basis. By being a part of this ever-changing industry, you will be getting numerous opportunities to prove your worth.
It is a proven psychological fact that a little bit of anxiety can boost one's performance. So, if you are not interested in a 'playing it safe' kind of job, and are seeking a challenging career by stepping out of your comfort zone, then pursuing fashion design will be a good decision.
Reason#3: Getaway to a happening professional life
Fashion industry is known for its dynamism and liveliness. Here, no two days are same. This fast paced industry makes dull days a rare phenomenon. Those who work at higher ranks, get a lot of opportunities to travel and attend fashion events. The chances of traveling comes with chances of working with different kinds of clients. This results in expanding your learning experience. You also get to attend many glamorous industry events that further adds to your exposure.
But it is every important to understand that this industry is not all about glamour only. All this may bring a lot of stress to your life too. It is essential that you weigh all the pros and cons before stepping into this demanding field.
Reason#4: Diverse profiles and positions for varied skill set
Fashion industry requires professionals with a variety of skills. The process of bringing out the final product demands different kinds of services. Thus, you can choose your professional role accordingly. Those with an imaginative eye can become fashion designers or costume designers. For those who are interested more in garment production process, there are roles like sample machinist, upholsterer, pattern graders, etc. Moreover, those who wish to utilise their managerial skills would fill positions like production manager, marketing manager, etc. Based on your interest and ability, you are likely to find a suitable place in this diverse industry.
Reason#5: Meeting industry experts and networking
Making contacts with industry experts is essential in any profession. If you know the right people, then this will aid you in grabbing better opportunities. While working in the realm of fashion, you will come across a lot of people with varied backgrounds and experiences. It will be a great opportunity for you to learn a lot of new things from well-known faces of the industry. Making professional contacts at an early stage will play a key role in your career growth. If in future you decide to set up your own venture, then you will have valuable contacts that may prove beneficial in the long run. Creating your own label in fashion industry will be exciting if you manage to foster strong professional relations with them.