Know top 5 Reasons to Pursue Fashion Design | Fashion Designing Courses
Top 5 reasons to pursue Fashion Design: Exciting, competitive, and swift-paced- these three words portray the design business in the genuine sense. A large number of graduates join this industry consistent with the expectation of making an imprint through their inventive bits of knowledge. Known for its spectacular notoriety, the fashion industry requires shrewd experts who are daring and prepared to commit themselves to the quest for new structural components. Know more about the top 5 reasons to pursue fashion design here.
Latest Updates for NIFT Entrance Exam
Stay up-to date with NIFT Entrance Exam News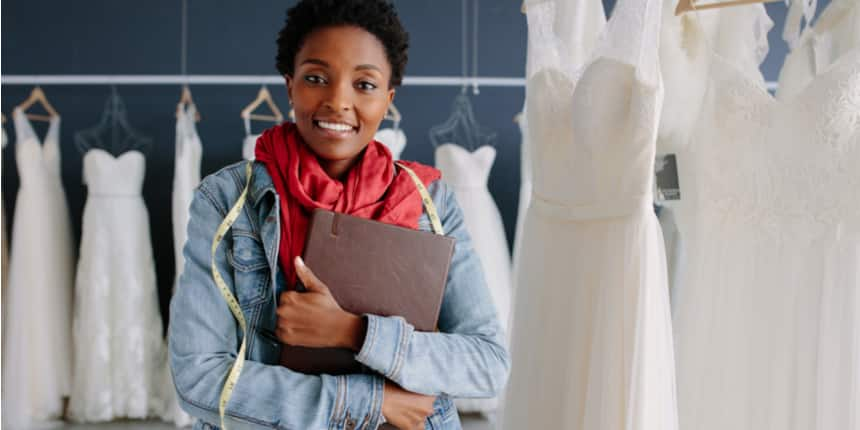 Top College in India Offering Design
Top 5 Reasons to Pursue Fashion Design
On the off chance that you believe that you fit the case but are confounded about picking fashion design as a profession, that point read the article underneath to know the main 5 reasons why this field merits your time and exertion. Here are the five reasons for pursuing fashion design and a career in this field:
Reason#1: Getaway to a happening professional life
The fashion industry is known for its vibrancy and dynamism. No days are comparable here. The high-paced industry is transforming boring days into a rare phenomenon. Many who work in higher ranks get plenty of travel opportunities and frequent fashion events.
Traveling opportunities come with chances to connect with various styles of customers. Which results in your learning experience being extended. You can also attend numerous glamorous industry events which add to your exposure.
Reason#2: Quench your thirst for creativity
If you are an extremely imaginative person who likes to design not only clothes but also accessories such as handbags, dresses, scarves, etc., then by brushing up your skills and enrolling in a course in fashion design you can fulfill that passion. Your love for engaging in your own designs of exquisite embroideries, drapes, pleats, and laces can be successfully pursued as you undertake this path.
The demand for fashion designers has also been rising at a rapid pace with the increasing number of fashion-conscious people all over the world. Therefore, following a path of design will not only prove fruitful for your career but will also give you the freedom to pursue your vision.
Quick links -
Reason#3: Meeting industry experts and networking
In every career, it is important to make contacts with industry experts. When you meet the right people, they will help you find more opportunities. You can come across a lot of individuals with diverse perspectives and perceptions when working in the design field. It will provide you with a perfect chance to hear a lot of interesting things from the industry's well-known names.
Having early professional connections can play a crucial role in your career development. If you plan to set up your own company in the future, then you will have useful connections that will be helpful in the long term. It would be fun to create your own name in the fashion industry if you continue to maintain good working relationships with them.
Must Read:
Reason#4: Opportunity for leaving your comfort zone
A lot of professionals search for opportunities that need a certain level of motivation to succeed exceptionally. If you're one of them, otherwise you would certainly have a good working atmosphere for success in the fashion industry.
For the fashion industry, the popular quote of the Greek philosopher, Heraclitus, "Change is the only constant in life," remains completely true. Trends are starting to enter and leave this complex sector every day. You will get countless chances to prove your worth by becoming a part of this ever-changing business.
That a little bit of anxiety will improve one 's output is a known psychological fact. Yeah, if you're not interested in a kind of work 'playing it safe' and you're looking for a fulfilling career by getting out of your comfort zone then studying fashion design would be a smart idea.
Read Also:
Reason#5: Diverse profiles and positions for varied skillset
The fashion industry needs a range of expertise from professionals. The method of getting out the finished product involves different types of facilities. You should then select your position in the profession accordingly. Fashion designers or costume designers may become someone with creative minds.
There are positions like model machinist, upholsterer, pattern graders, etc., and those who are more involved in the production process of garments. In addition, those who want to use their management skills will occupy roles such as manager of production, manager of marketing, etc. Based on your interest and skill, you will probably find an appropriate place in this diverse industry.
Top Design Entrance Exam
Frequently Asked Question (FAQs) - Know top 5 Reasons to Pursue Fashion Design | Fashion Designing Courses
Question: What are the top recruiters for fashion designers?
Answer:
The fashion industry has bloomed to its peak. Nowadays people are so particular about what they wear. There is a great demand for fashion designers in the industry. Few of the top recruiters for fashion designers are mentioned below.
Raymond Ltd.

Silver Spark Apparel Ltd.

Bata

Pantaloon
Question: What is the scope of fashion designing in India?
Answer:
Fashion designing is one of the most creative and flourishing industry. The industry has cut cut-throat competition and vast challenges. Students have innumerable choices of job opportunities in front of them after completing their fashion design courses. However, the opportunities also depends on your creativity and experience. The scope of fashion designing are listed below.
Fashion Designer

Fashion Stylist

Textile Designer

Footwear Designer

Fashion Blogger

Retail Manager
Question: What are the type of fashion designing courses?
Answer:
Learning fashion designing is not all about schooling to make aesthetic clothes or accessories. There are various types of fashion designing courses which can be pursued in undergraduate and postgraduate level. Few of the fashion designing courses are listed below.
B.Des in Fashion Design

M.Sc in Fashion Design
Question: What is the minimum qualification to pursue a bachelor degree in fashion designing?
Answer:
Aspirants must pass 10+2 in any discipline from a recognised board to pursue a bachelor degree in fashion designing.
Questions related to NIFT Entrance Exam
Showing 1732 out of 1732 Questions
National Institute of Fashion Technology Entrance Examination (NIFT Entrance Exam)