What to do after a Degree in Fashion Design?
Career After Fashion Design Degree - Fashion design is a creative art pertaining to the designing of esthetic and artistic clothes and accessories. The art of fashion designing has been practiced over the lapse of time. We could see the art of designing from the ancient time back then, the costume wear by the royal family and the merchandise. The design of the costume changes from era to era as the taste of the people varied from place to time. If you are a bohemian, then being a fashion designer will be a best career option for you. To be an eminent designer you have to be creative and think out of the box. Well everyone is not artistic, being bohemian is a god gifted talent and you should never waste such skill in vain.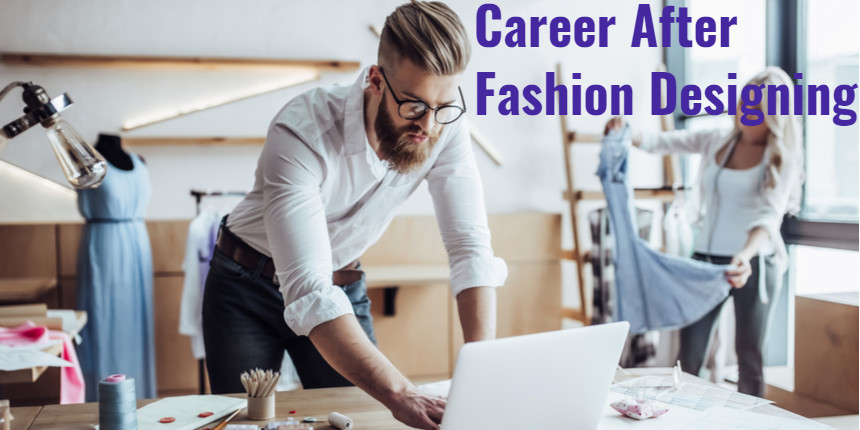 However, if you are curious, thinking about being a designer as a career will be a good idea. Well I must say like other sectors fashion industry has reached its peak and is growing over the roof. The demand for designer wear in the market has surprisingly increased in just a few decades. From the bridal outfit to casual dress, people want something very spectacular. Fashion designing is not all about stitching and making elegant clothes. There are lots of career options after you get a degree in fashion design. Few of the lists for careers after fashion design are mentioned below.
Fashion Designer
Well I may not require to say much about fashion designers as we all are aware of it and their work. Famous designers like Sabyasachi Mukherjee, Manish Malhotra, Rohit Bal did an outstanding job in the field of fashion designing. They never cease to amaze people with their creative art.
If you wonder what fashion designers do, let me clear that they sketch design, research the trends, study what customers want, select fabric, texture, colour, pattern etc. After conducting the fitting of their design they sent the finalized outfit to the retailers for marketing. Fashion designers attend big events related to fashion and design such as trade shows, fashion exhibitions etc. After completing your degree you can work under fashion houses or as a freelancer or as a team.
Fashion Stylist
As a fashion stylist you may work for an individual, fashion boutique, big clothing brands etc. Being a fashion stylist all you need to do is you have to select the perfect outfit which will suit your client. In short we can say you have to give the fashion advice in picking up and coordinating outfits for your client according to the event. When I say fashion advice it includes choosing the right costume, accessories, footwear, make up and of course hair style as well. The perfect combination will make the overall look of your client breathtaking.
Retail Manager
If you are splendid in marketing, you can be a marvellous retail manager. You can work as a retail manager in famous fashion houses, clothing brands such as Gucci, Zara, Louis Vuitton, Burberry etc. A retail manager looks after the management of a retail store, he is responsible to set the target for sales. He administers the daily work status of the staff and supervises the sales, promotion and customer satisfaction.
Textile Designer
Textile designers are responsible for making the pattern for both woven and knitted fabrics. To be textile designers you may face a huge number of competitors and of course you need to have a fantastic portfolio. As a textile designer you need to be brilliant in drawing, creative, good sense of colour, texture and pattern. You can work individually or as part of a team.
Fashion Blogger
If you have the knowledge of designing as well as a great writing skill then you can be a fashion blogger. A fashion blogger can earn a lot of money with their content and artistic fashion advice and hack. You can have your own blog or you can also write for the famous fashion blog or magazine such as vogue. Fashion Blogger is a kind of influencer which gives tips related to fashion and designing.
How can you enroll in fashion college?
You may not require a degree to become a fashion fashion designer. However, enrolling in a famous fashion college can enhance your creativity and train you professionally. To get admission in a fashion institute you can appear in entrance tests which are conducted in both national and university level.
Type of Fashion Designing Course
There are various types of fashion designing courses in India. According to your choice you can enroll in any of the following courses.
B.Sc in Fashion and Apparel Designing

B.Sc in Fashion Business and Retail Management

B.Sc in Lifestyle and Accessories Design

B.Des in Fashion Design

B.Des in Knitwear Design

B.Des in Fashion Communication

B.Des in Accessory Design

B.Des in Apparel Production

B.Des in Leather Design

B.Des in Textile Design

B.A Honours in Communication Design

B.A Honours Fashion Styling and Image Design

B.A Honours in Jewellery Design

M.Sc in Fashion Design