NIFT 2018 Topper Interview: Work on amplifying your creative skills, says AIR 1 Sirigowri Kambalimath
Sirigowri Kambalimath, the all India topper of National Institute of Fashion Technology (NIFT) 2018 entrance test, believed in the simple philosophy of 'Be inspired; nothing is impossible' to achieve this feat. Depending on rigorous efforts, the NIFT 2018 topper from Bengaluru shares that she focused on enhancing her artistic skills and practised sketching as much as possible.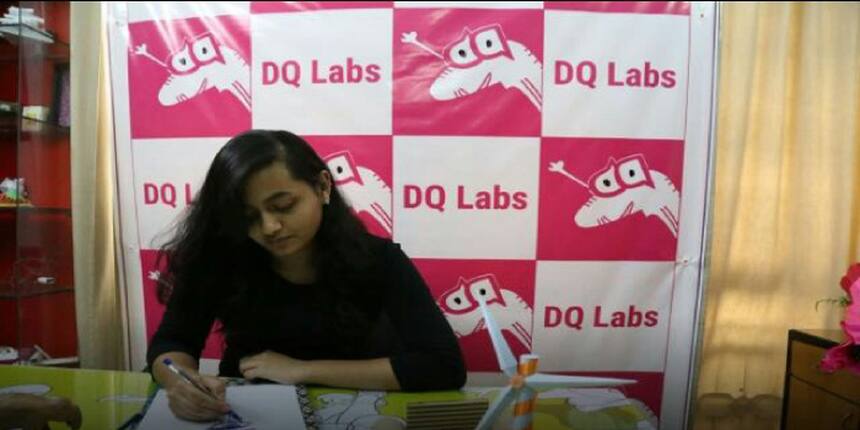 An admirer of Andy Poon, a Vancouver-based designer, illustrator and art director, the NIFT topper had clarity from a very young age about what she wanted to do when she grows up. A movie buff, who enjoys painting in her free time, Sirigowri shares her NIFT 2018 entrance exam success story with Careers360.
Read the complete NIFT 2018 topper interview below:
Careers360: Please tell us something about yourself. What initiated your interest in design?
Sirigowri: Design is a perfect blend of art and innovation, and I had a huge interest in this field from a very early age. I knew that I wanted to pursue higher studies in this field, and take it up as my career. Design is one of the most popular domains currently, and it fascinates me a lot.
Careers360: From where did you complete your schooling?
Sirigowri: I completed my higher secondary schooling from Sri Kumaran's Children's Home, Mallasandra campus. I studied commerce with psychology there.
Careers360: What was your total score in the written test?
Sirigowri: I secured 89.6 out of 100 in the written test of NIFT.
Careers360: How was your exam day experience?
Sirigowri: The Creative Ability Test (CAT) and General Ability Test (GAT) were both easy. I was able to complete both within the given time. As far as the Situation Test is concerned, I found it quite interesting. One question was on drawing the steps involved in making paper boat or instructions for fixing a light bulb. The remaining two questions included designing a wedding/picnic bag with the description, and drawing the geometric shape to which I resemble. These three questions were of 100 marks each. Overall, I found both the tests not tough.
Careers360: How did you prepare for the exam?
Sirigowri: I improved my basis sketching skills to perform well in the Situation Test. To crack the entrance test, your sketching and drawing skills need not be super-fantastic. You just need to know how to present an idea.
For the written test, I found McGraw Hill Education book the best. It is an all-inclusive book and helped me in preparing for all the sections. 
Careers360: Did you take coaching? How helpful was it? Is it possible to succeed with only self-study?
Sirigowri: I started taking coaching classes from Design Quotient Labs when I was in class 11. It proved to be very helpful for me as I used to get all my doubts cleared by professional designers. They taught about material handling as well as how to tackle questions that require sketching. From December onwards, they started their intensive preparation plan that included solving all kinds of questions that might be asked in the exam.
Careers360: Which is your dream NIFT? In which discipline are you interested? 
Sirigowri: I will be taking admission in either NIFT Delhi or Mumbai. I am willing to study Fashion Communication. 
Careers360: What are your hobbies?
Sirigowri: In my leisure time, I love to draw and paint. I also write poetry. I like watching movies as well. Recently, I watched Avengers: Infinity War.
Careers360: Apart from NIFT entrance exam, which other design entrance exams did you appear for?
Sirigowri: I also appeared for the entrance exams conducted by National Institute of Design, IIT Bombay, MIT Institute of Design, Srishti Institute of Art, Design and Technology, Symbiosis Institute of Design, Woxsen School of Art and Design, and PES University. 
Careers360: What are your future plans after you graduate with the design degree?
Sirigowri: I am still deciding, but I am interested in animation and production. I am also inclined towards VFX and creating a storyboard.
Careers360: Any message for design aspirants who will be appearing for the entrance tests next year?
Sirigowri: Clearing a design entrance is not difficult. You just need to practice with complete dedication and appear for the exam with a cool head. Sketch something daily, and work a lot on boosting your creativity. The most crucial aspect is to be inspired.
Also Read:
Design Internship Experience: How JD Institute of Fashion Technology student Parth Batra got a Pre-Placement Offer
JD Institute of Fashion Technology Campus Virtual Tour
"Always try to walk the untrodden path", suggests Reetu Betala, Apeejay Institute of Design
Questions related to NIFT Entrance Exam
Showing 1646 out of 1646 Questions
National Institute of Fashion Technology Entrance Examination (NIFT Entrance Exam)