How to crack UCEED in 6 months: Aspiring students thinking of giving UCEED (Undergraduate Common Entrance Examination for Design) in the future must start their preparation in the early months to avoid last-minute hiccups. Students must not wait for the eleventh hour, as it can make them more stressed and skip the important topics for the entrance test. Starting the preparation for UCEED in the early months will give sufficient time to get thorough with the UCEED syllabus.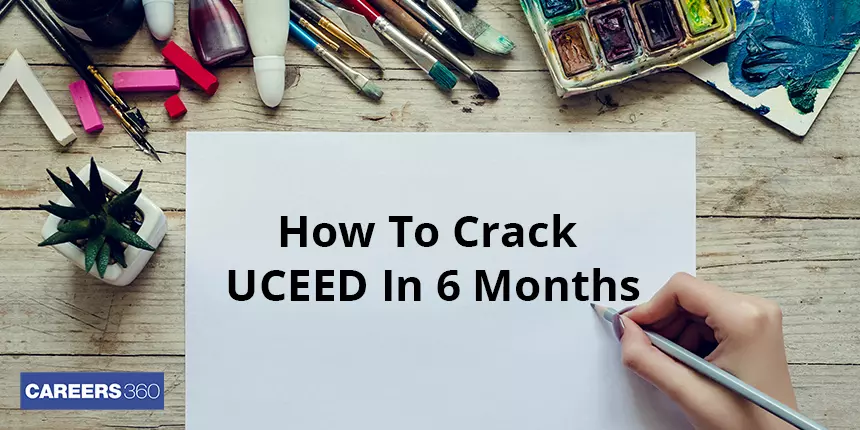 How to Crack UCEED in 6 Months - Preparation Tips & Strategy
Top College in India Offering Design
How to crack UCEED in 6 months
One question which pops up in the student's mind is how to crack UCEED 2024 in 6 months. It is imperative for the students to have a feasible exam strategy for the UCEED 2024 preparation. Considering the needs of the students, Careers360 compiled the exam strategy on how to crack UCEED in 6 months.
Read More:
What is UCEED?
IIT Bombay conducts UCEED (Undergraduate Common Entrance Examination for Design) every year at the national level for the students seeking admission in B.Des programmes. Candidates with valid UCEED scores will grant admission to the UCEED 2024 participating institutes. UCEED is a skill-based entrance test that evaluates a candidate's creativity skill, observation & visualization ability, and problem-solving skills. UCEED 2024 will be held in the last week of January 2024, from 9 am to 12 noon.
Candidates starting preparation for UCEED in 6 months will get enough time to prepare well. As a first step of the preparation, you must draw a clear-cut timetable and devote it to it. The preparation strategy on how to crack UCEED in 6 months is as follows.
Quick Fact:
Best Books for UCEED Preparation
While preparing for the UCEED, it is necessary to get your hand on effective study material. You must be aware of your necessity while choosing the Best books for UCEED 2024 preparation. The best books for UCEED preparation 2024 are listed below.
Best books for UCEED 2024 preparation
| | |
| --- | --- |
| UCEED (B.Des) Entrance Books and Test Series | Analytical Reasoning, Mental Aptitude, Verbal Aptitude (UCEED Guide) |
| UCEED Design Environment & Social Awareness In Design Perspective Combined With Mental & Verbal Aptitude | Comprehensive English for NID, NIFT, UCEED, CEED, NATA, B.Arch & Other Design Entrance Exams |
Know more UCEED Preparation Strategy
How to crack UCEED in 6 months?
It is necessary to prepare consistently to crack UCEED with a good score. With a maximum number of candidates competing for UCEED, it is not an easy feat to crack the Undergraduate Common Entrance Examination for Design. Here, check some of the preparation tips to crack UCEED in 6 months.
Go through the UCEED 2024 exam pattern - Aspiring students must have a clear understanding of the UCEED exam pattern 2024. It is important to understand the parameters of the exam which include the marking scheme, question format, exam duration, and many more before you start preparing for the entrance test.
Know UCEED syllabus 2024 - Candidates must go through the UCEED 2024 syllabus to prepare effectively for the entrance test. Again it is essential for the students to understand the concept of the topics which are included in the UCEED syllabus.
Improve your free sketching skill - Sometimes in UCEED, sketching with instruments is restricted. So, it is necessary to improve your free sketching skills. Used the right equipment for sketching such as 2 grades of pencil: H-grade for rough work, and light drawings, and B for rapid work and shading.
Read comic strips or watch cartoons - It is advisable to read the comic strip daily in online or newspapers. Reading comic strips helps you to develop the ability to present your idea in a storytelling format. Comic strips are actually a good example of storyboarding. Sometimes in UCEED, there are questions that ask to represent a storyline. Hence, reading comic strips enhances sketching skills as well as story-telling ability.
Solve UCEED sample papers - Solving the UCEED sample papers helps to understand the format of the questions and the difficulty level of the exam. Constantly solving the UCEED sample papers assists to improve your speed and accuracy of the answer.
Time management - Time management holds an important factor in life to be a successful person. Prioritize the important things and devote your time to them. If you manage your time exceptionally well then you can achieve your time. Using your time management skills, you can develop to boost your ability to function more efficiently.
Practice Mathematical geometry - While preparing for the UCEED, students must focus on practicing complex Mathematics questions. Analyzing the previous years' questions trend, the paper majorly consists of mathematical geometry questions.
Improve visualization and observation skills - Through UCEED, students will be judged on their creativity and innovation skills. Creativity can be developed with inner thought, passion, and exposure to innovative ideas. Enhancing observation skills helps in developing creative thinking and innovative ideas.
Boost your general knowledge - Read magazines, brochures, and newspapers and study the work of your favorite designer. Be aware of what's happening around you.
Give UCEED mock test - Participating in the UCEED mock test 2024 will help you to get a clear picture of the actual entrance test. Giving the mock test regularly will help you gain confidence and get rid of the exam stress. Analyzing the performance of mock tests is the next step to implement the exam strategy. A mock test is an indicator to figure out the area where a candidate needs to work on.
Solve reasoning questions - Candidates are advised to solve as many riddles and puzzles as possible. Practicing maximum reasoning questions can improve students' skills to solve analytical and logical reasoning questions quickly.