Fashion Communication - Type of job profile
Fashion Communication - Type of job profile - At present mushroom of fashion brands are burgeoning globally. Fashion industry has become the fastest-growing sector and many brands are competing with each other. Well, fashion does not imply only clothing but it also refers to the make-up and hairstyle, tattoo and piercing on your body along with the accessories you carry.
Latest Updates for NIFT Entrance Exam
Stay up-to date with NIFT Entrance Exam News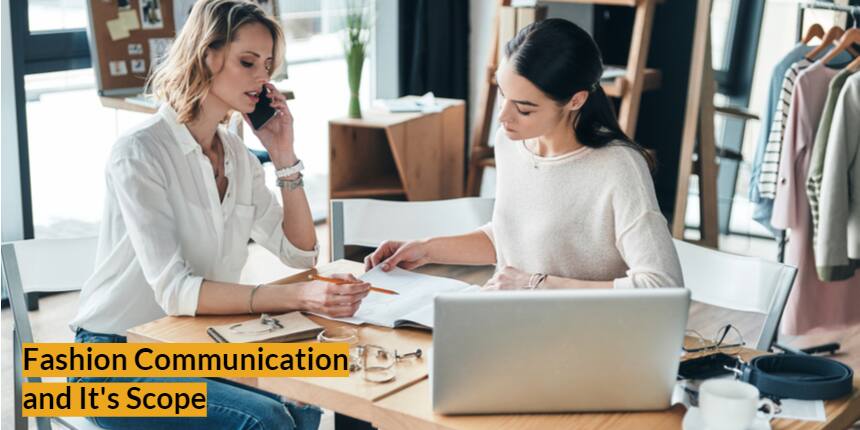 Branding is difficult. The success of the brand depends on its uniqueness and brand value. To create a brand value or maintain the image, fashion communication is necessary to work on design strategies, unique value points, portfolio and many more.
What is Fashion Communication?
Fashion communication is a specialised domain of fashion studies that enable students in acquiring communication skills relevant to the fashion and lifestyle industry. Fashion communication is the backbone of the fashion industry.
Fashion communication includes two major aspects which are communicating fashion and communicating through fashion. It involves devising and facilitating communication in the fashion industry in the form of written, verbal, visual or audio visual.
Fashion communication includes consolidated course study associated with different areas such as fashion journalism, styling, advertising, public relations, graphic design, visual merchandising, space design, photography, display, exhibit, creative writing, interaction design, new media design, etc.
Browse Top Fashion Design Colleges by Location
Eligibility criteria to pursue fashion communication
Various fashion institutes offer fashion communication courses at UG and PG level. The eligibility criteria of pursuing fashion communication vary from institute to institute. The general eligibility criteria for pursuing fashion communication are as follows.
To pursue a bachelor's degree in fashion communication, aspirants must pass class 10+2 examination or its equivalent from a recognised state or national board of education.

For a master degree, an aspirant must have graduated from a recognised university or institute.
Top College that offer fashion Communication College
Multiple fashion institutes offer fashion communication courses with high quality education facilities and rich industrial exposure. Some of the top fashion institutes which you can apply for admission to are as follows.
Scope of Fashion Communication
Lucrative opportunities are available for the fashion communication graduate students. The fashion industry opens the door for both internship and job opportunities to many aspirants with the right skill set. Fashion is something that keeps evolving from time to pace. Being a challenging sector, the industry required a shrewd personality who is daring to take few risks to experiment newfangled ideas. The job profiles that one can hope to join after pursuing a course in fashion communication are listed below:
Fashion Advertiser - Fashion business requires marketing strategies to promote any fashion or service to the potential client. The objective of the fashion advertisement is to reach the target market with information about the fashion, idea or service.

PR Manager - Fashion public relation helps the fashion house, brand or retail stores to build and maintain a favourable image relationship with the audience. A career in fashion PR is popular in the fashion industry. Promoting a brand doesn't mean organizing an event or campaign when a product or service is launched. It involved maintaining the image of the brand and how clients and industry insiders perceive the brand.

Fashion Photographer - Even if you are not enthusiastic about fashion but love photography, then it is time for you to showcase your passion by becoming a fashion photographer. You can open your own business, start a page or blog. Else photographs for an E-Commerce site or magazine or other blogs.

Fashion Journalist - Fashion journalism involves research and writing about the new fashion trends and style. The role of fashion journalist is to analyze the current trends, report fashion news and notes from fashion critics or any other relevant issues related to the fashion industry.

Visual Merchandiser- Do you ever notice how fashion brands/houses market themselves in terms of store layout, display of product or the way of arranging counters. Well it's all part of visual merchandising. It is a marketing strategy to attract potential customers. Doesn't it sound interesting. You can work in a fashion brand with planning and managing visual merchandising in a retail store.
Top College in India Offering Design
Top Recruiters
Multi companies recruit aspirants for various fashion communication professions. Some of the top recruiters are mentioned in the table below.
| | |
| --- | --- |
| Marks & Spencer | Madura Garments |
| Shoppers Stop | Christian Dior |
| Lifestyle | Benetton |
| Tommy Hilfiger | Liberty |
| FreelookGraphic Design | Lopez Design |
| Marie Claire | Images |
| Vogue | Harper's Bazaar |
| Times of India | Asian Age |
| Couture Asia | Femina |
| FDCI | MTV |
| NDTV | Times Now |
| Headlines Today | Perfect Relations |
| Wizcraft | Ogilvy & Mather |
| JWT | Lintas |
Top Design Entrance Exam
Frequently Asked Question (FAQs) - Fashion Communication - Type of job profile
Question: What is fashion communication?
Answer:
Fashion communication is a specialised domain of fashion studies that enable students in acquiring communication skills relevant to the fashion and lifestyle industry.
Question: What is the scope of fashion communication for graduate students?
Answer:
Fashion communication graduate students have multiple career opportunities such as graphic designing, visual merchandising, retail space designing, styling and photography, fashion journalism, PR/events and fashion advertising.
Question: What is the average salary of a fashion communication profession?
Answer:
Fashion communication profession salary varies on the brand, company and location which an individual works. On an average, a fashion communication graduate can earn between Rs.1.4 lakhs to Rs.5 lakh annually.
Question: What are the top colleges to pursue fashion communication courses?
Answer:
Top fashion institute to pursue fashion communication are as follows
National Institute of Fashion Technology, New Delhi

National Institute of Fashion Technology, Mumbai

Vogue Institute of Art and Design Bangalore

National Institute of Design Ahmedabad

Army Institute of Fashion Technology Bangalore

Pearl Academy Delhi
Questions related to NIFT Entrance Exam
Showing 1780 out of 1780 Questions
National Institute of Fashion Technology Entrance Examination (NIFT Entrance Exam)