Steer to design education, industry expectation by Sukanta Kundu, Dean, School of Design, Avantika University
Careers360 presents here interview with Sukanta Kundu, Dean, School of Design, Avantika University. Having more than 29 years of industrial experience, Sukanta Kundu is an alumni of IIT, Kanpur and National Institute of Design, Ahmedabad. In an interview, the Dean talked about design education and career, curriculum, research, project, industry expectation and many more.
Latest Updates for NIFT Entrance Exam
Stay up-to date with NIFT Entrance Exam News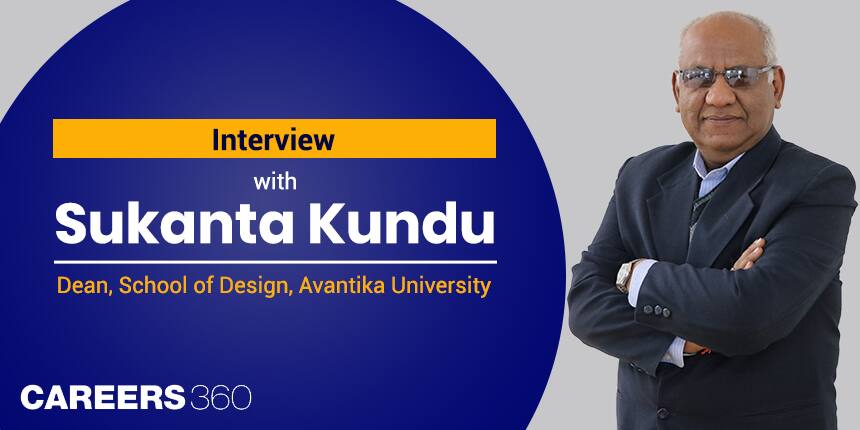 Before joining Avantika University, Sukunta Kundu was associated with well-known brands such as Bajaj, Philips, Surya Roshni and Fiem Industries . Scroll down the page to know more about academics, facilities, internship, scholarships provided at School of Design , Avantika University.
Careers360: Can you please let us through the journey of Avantika University since the day it has started?
Sukanta Kundu: Avantika University is India's first Design Centered University, promoted by MIT Group of Institutions, Pune which has a proven legacy of 40 years in the field of higher education. The idea of Avantika University germinated in 2011 and the formal launch happened on 11th September 2017. It seems like a long journey since then, but this is just the beginning! Avantika is about its culture of design and innovation with complete freedom of thinking.
Avantika is conceived to be a distinctive learning center and the project-based education framework is developed by a team of passionate and proven academicians and professionals. Our unique academic model is based on an integrated trans-disciplinary approach that harmoniously blends design with technology and business on a solid foundation of liberal education.
Careers360: What are the hallmarks of a well-run institution?
Sukanta Kundu: It is both an intriguing and crucial time for leaders in higher education. The field of higher education administration is now even more challenging with the increase in social and psychological disruption due to the pandemic.
What's more, innovation is progressively impacting education as the education industry takes a more entrepreneurial path to the way that students learn, faculty teach, and authorities collaborate both for academic and other related activities. A good institution should enable collaborative spirit, foster freedom of thinking, and promote innovation in every small little activity be it academics or otherwise. The faculty serves as mentors and believes in co-learning and co-creating solutions with students.
Careers360: What are the design specialization programs offered at Avantika University?
Sukanta Kundu: Avantika University offers various design courses in Bachelors, Masters, and PhD level. The specializations offered at UG and PG are as follows:
User Experience Design
Interaction Design
Transportation Design
Retail Design
Animation Design
Integrated BDes – MDes
Careers360: What is the admission process for design programs at Avantika University?
Sukanta Kundu: The following is the admission process and the entry requirements for bachelor's design programs at MIT ID Ujjain Avantika University.
BDes
● 10+2 from any stream (from any of the State Boards/ CBSE/ ICSE/ ISC/ CIE/ IB/ NIOS or equivalent exam)
● 50% aggregate in all subjects
● Proficiency in English
MDes
The following is the admission process and the entry requirements for master's design programs at MIT ID Ujjain Avantika University.
● Graduate of any stream (10+2+3 Minimum)
● 50% aggregate in all subjects
● Proficiency in English
● Valid score of NID-DAT, NIFT, CEED, MIT-DAT, ADST (Avantika Design Scholastic Test)
Careers360: Are there any scholarship facilities available at Avantika University?
Sukanta Kundu: Avantika University offers various scholarships, tuition fee waiver schemes, teaching and research assistance to meritorious, needy, and deserving students. This is an effort to make contemporary education affordable and reachable and encourage academic excellence. The scholarships are instituted to recognize excellence in academics and sports, and support students from all sections. The scholarships offered are:
Ved Vyas Scholarship
Vikram Scholarship
Arjun Scholarship
Chanakya Scholarship
Aryabhata Scholarship
Sudama Scholarship
Ashoka Scholarship
MP Government Scholarship
For more information please visit: https://www.avantikauniversity.edu.in/scholarships.php
Careers360: How does the design industry look like now and what does the future hold for the design industry?
Sukanta Kundu: The world of Design is an appealing one, serving as a mirror to the comprehensive world of technological and social change. The design industry in India is growing at a brisk pace and is opening substantial growth opportunities. As per a 2021 report on the future of creative jobs by KPMG India, the design industry and design professionals are at the front line of redefining the way every product will be developed going forward.
According to another report, the country currently requires over 60,000 personnel for designing jobs in India in the field of industrial design, graphic design, communication, and packaging design. But India possesses around 7,000 accomplished designers at present.
The above-mentioned stats clearly specify that there will be a definite spike in design job roles in India and hence there cannot be a better time to plan a career in design. It is high time where students must be made aware of the creative education, meeting the hopes of the students and the industry concurrently. Initiating design in a holistic multi-disciplinary aspect will enable us to create design professionals who can unify design for aesthetics, business, and technological concerns. Safe to say that the future of the design industry looks positive more than ever.
Careers360: Can you please share details if there is any collaboration with universities abroad?
Sukanta Kundu: Avantika University actively engages in strategic partnerships with global universities, government agencies, research institutes, industry, and professional societies for enriching the curriculum, research and exchange opportunities.
The collaborations with Global Universities enable us to build our global footprint through student exchange and faculty exchange programs, joint research ventures, joint conferences, and curriculum design.
Some of the top Global Universities we have collaborated with are:
Rome University of Fine Arts (RUFA)
Universitas Multimedia Nusantara, Indonesia
Institute of Technology, Carlow, Ireland
The Hebrew University of Jerusalem
BRNO University of Technology (BUT)
Institute of Scientific Instruments of the Czech Academy of Sciences (ISI CAS)
Careers360: What kind of faculties and infrastructure does Avantika University have?
Sukanta Kundu: Avantika has a diverse mix of faculty members with varied expertise. Even though they represent a range of different ideas and perspectives, they are well-aligned and driven by Avantika's core values and unparalleled commitment to innovation and evolution. Our faculty members serve as student advisors and mentors to offer a mutually beneficial faculty-student experience.
Our expansive sustainable campus spreads over 60-acre, replete with world-class academic, administrative, residential, sports, and convention spaces. It holds state-of-the-art computer centers, design studios, labs, and lecture theatres. We have been recognized as the Green Champion by the Government of India for the Ujjain district under the initiative of One District One Green Champion for the academic year 2020-21 by the Mahatma Gandhi National Council of Rural Education (MGNCRE) in the Ministry of Education.
Careers360: Does the university collaborate with the design industry and provide live projects to the students? If yes, can you please elaborate on the types of projects?
Sukanta Kundu: The academic model of the university requires all final semester students to go through a mandatory capstone project. The capstone project is pursued with the industry or the university to apply the knowledge gained in the professional courses and gain hands-on experience. Students from both the Bachelors and Masters programs joined various well-known national and global companies. Godrej, Zostel, Urban Studio, Extentia, PayU, Lokus Design, Pulp Advertising, ShopX, Frog Design, Fractal Ink, Witty Pen are
some of the renowned organizations where our students completed their capstone projects.
Careers360: Is there a future in design? How should the aspirants prepare themselves for a career in design?
Sukanta Kundu: The world has gradually shifted to a virtual mode, and organizations are now hiring user experience analysts, UI/UX designers, graphic designers, and design consultants, among others.
The success of a product or a brand now largely depends on its design or the idea behind its design. The recent recognition, acceptance, and realization of the importance of design have led to a revolution where everyone including people, brands, governments, multiple industries, and others have accommodated design at the core. This has led to newer job profiles emerging in design like a digital product designer, information architect, usability analyst, voice interface designer, design strategist, and creative technologist. The domain of design is huge and most of it is yet to be explored. Technological disruption has further added to the promising future of the design profession and the overall design industry.
The aspiration of the students has changed positively in the last decade or so. Students are ready to take risks and choose unexplored career paths. If an aspirant is inclined towards creativity, he/she is well suited to opt for design as a career. Additionally, some of the skills that can help aspirants prepare themselves for a career in Design are:
Creative Mindset
Analytical Orientation
Communication Skills
Digital Fluency
Careers360: What does the industry expect from the design aspirants?
Sukanta Kundu: Design is a field that is attracting lots of names and fame with the progressing times. Students are opting for offbeat careers and preferring a career in Design is becoming the new normal. Design as an industry is evolving daily and technological advancements are equally responsible. As a result, the industry expects the future workforce to be evolved so that they can rub shoulders with the demands of the industry. To cater to the demands of the industry, even the design aspirants are expected to buckle up and prepare themselves with the appropriate skills for a thriving career in design.
Design aspirants must train to develop their design insights need to keep up with cutting-edge technologies, artificial intelligence and acquire an in-depth knowledge of its impact on the overall creativity and productivity
The design aspirants are expected to embrace the physical, experiential, functional, and emotional reality of the world today. They need to be flexible, open-minded, and audacious in their thinking and outlook
Design is all about empathy. Strong communications skills help add value to the overall design element
Questions related to NIFT Entrance Exam
Showing 1857 out of 1857 Questions
National Institute of Fashion Technology Entrance Examination (NIFT Entrance Exam)