How to Crack NID DAT 2023? A Complete Guide
How To Crack NID DAT 2023: National Institute of Design is one of the prominent design institutes in India. NID conducts Design Aptitude Test (DAT) every year to offer admission to aspiring students in the design domain. Aspiring candidates must have a perfect exam strategy to tackle the exam. Students need to follow the effective NID DAT preparation tips to crack the entrance exam.
Latest Updates for NID DAT
Stay up-to date with NID DAT News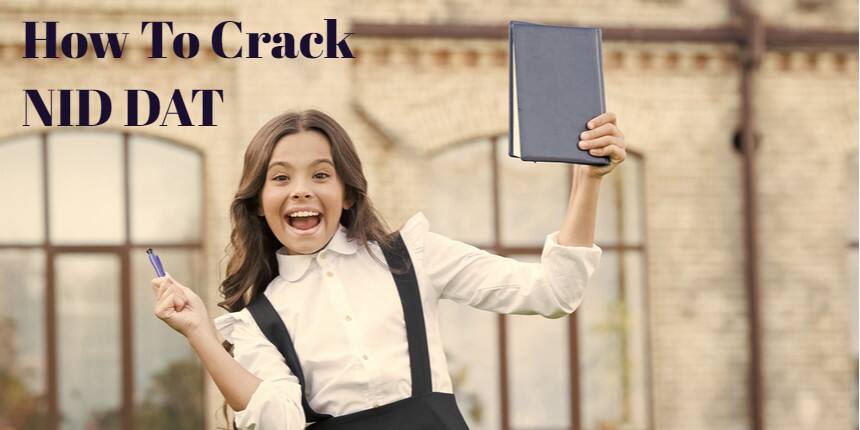 No doubt hardworking and dedication to your ambition is the key to success. But a proper game plan and practical tips may help you to a great extent to tackle the NID DAT entrance test easily. Of course, students must also have a thorough idea of the exam pattern of NID DAT. Careers360 brings you some tips on how to crack NID DAT 2023.
Top College in India Offering Design
NID DAT 2023 - Overview
| | |
| --- | --- |
| Particulars | Details |
| Name of the Exam | NID Design Aptitude Test |
| Commonly Known As | NID DAT |
| Conducting Body | National Institute of Design |
| Level of the Exam | National |
| Mode of the NID DAT Application Form | Online/Offline |
| Mode of the NID DAT entrance exam | Pen and Paper Mode |
Also Read:
Tips that will help you to crack the NID DAT entrance exam
Students from all over the nation compete in the NID DAT entrance test to enroll admission in their dream college. However, the institute offers only 100 seats for eligible candidates. So with the maximum number of competitors, the journey to matriculate admission to NID may be arduous.
You must be working hard and devote your time in preparation for the NID DAT entrance test. However, effective preparatory tips will help you in every possible way to crack the entrance test and secure a seat at the prestigious college. A few of the preparation tips for NID DAT are listed below.
Enhance Your Observation and Visualization Skills
The agenda of conducting DAT is to evaluate the creative and imaginative skills of candidates. Along with these candidates will be scrutinized for their general awareness knowledge, observation skills, and visualization as well.
Test takers believe that only good sketching can make them crack the entrance test which is completely not true. It is equally mandatory to enhance the aforementioned skills. So candidates are required to boost the necessary skills.
Work On Your Speed
Good sketching and creativity skills are not enough to crack the entrance test. Along with proficient skills, speed is also one of the necessary elements in tackling the exam. Without speed, the skills you procure are useless as you have limited time to attempt all the questions. You must be able to present your creativity and uniqueness within the allotted time.
Aspiring students must work on their speed and enhance it to answer all the questions in the allocated time.
Popular Online Design Courses and Certifications
Solve the NID DAT Sample Papers
Students are advised to practice the sample paper of NID DAT as much as possible. Solving the NID DAT sample papers will help candidates to get an idea about the formats of the questions asked in the entrance exam. Aspirants will also know the overall difficulty level of the exam. The plus point of solving the previous year's questions is that students will be able to identify the important topics on which they must focus.
Candidates will also gain confidence and improve their speed as well as efficiency of their answers. Students will get a clear understanding of the sequence in which they must answer the different sections of DAT.
Stimulate Your General Awareness
You are not required to cram up your brain with every general knowledge book. What is important is to what extent you are aware of the current happenings around the world. To improve your general awareness read newspapers, magazines, journals, etc on a daily basis. You must also have knowledge about famous designers and their contributions to the design domain. Don't just sit around at home, spend your leisure time reading fashion blogs.
Don't waste Your time Erasing and Redrawing
You must not waste your time erasing and redrawing which most candidates do as you have to complete the exam in the allotted time. So to avoid this mistake you are recommended to draw with a light hand and focus more on the outline. You can start detailing the work and finalize it after you get satisfied with the rough outline and dimensions of your sketch.
Popular Online Design Courses and Certifications
Be Creative
Students are necessary to be innovative enough to clear the entrance test. With their innovative ideas, test takers must try to astonish the admission cell with their creative design. To make an avant-garde design, students must try to think out of the box and come up with creative and unique ideas.
At the time of examination, students will be judged on their ingenious ideas. Students must keep their conventional thoughts aside and bring their newfangled design to the fore.
Following preparation tips on how to crack NID DAT 2023 while studying will definitely assist students to achieve their ambition. Devote your time, be sincere, and focused on what you want to achieve during your preparation phase. Most importantly maintain positive thoughts at the time of preparing for the entrance test.
If you find yourself following the exam strategy then you can hit the bullseye. Stay positive and give your 100 percent focus on your goal and definitely, you will be able to clear the exam with flying colours.
Browse Top Fashion Design Colleges by Location
Questions related to NID DAT
Showing 253 out of 253 Questions