How to crack NIFT entrance?
Every year more than 22,000 aspirants appear for the entrance test conducted by National Institute of Fashion Technology. Read on to find out how to crack NIFT entrance exam, a highly competitive test for fashion and design admission across its different campuses. This article provides you information on the preparation strategy for NIFT entrance exam, and much more.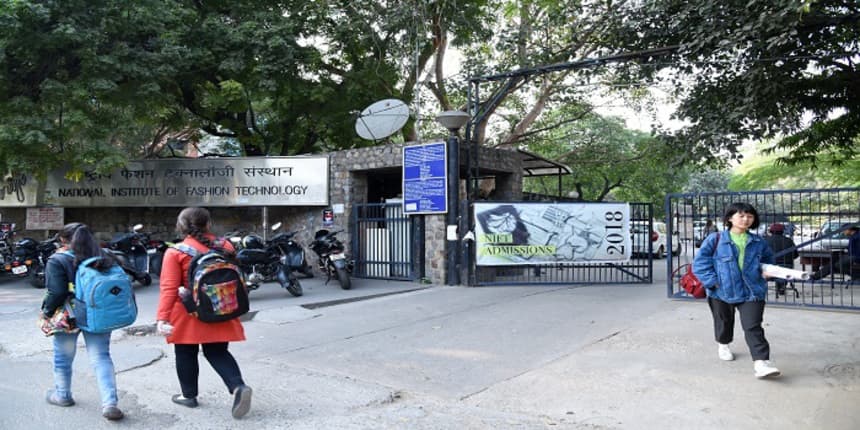 National Institute of Fashion Technology (NIFT) is a dream college of every design aspirant, who wishes to make a mark in the textile and apparel industry. Creative Ability Test (CAT) and General Ability Test (GAT) was conducted on January 19, 2020 for admissions to UG and PG programmes in the institute. Set under the aegis of Ministry of Textiles, it is known for offering the best design education as well as excellent placement opportunities. Thus, cracking the NIFT entrance exam and getting admission in this prestigious institute ensure a smooth career prospects.
Latest: NIFT 2020 Result announced on March 13. Check the cutoff of NIFT 2020
Candidates can check on this page complete details about how to crack NIFT entrance exam.
Watch Video on "NIFT Entrance Exam Tips" below:
NIFT Preparation Strategy
Every year, nearly 22,000 aspirants appear for the entrance exam for undergraduate admissions. Out of these, around 7,700 candidates are able to crack it. Nearly 2,400 seats are allotted to the candidates on merit basis. Due to this cutthroat competition, you need to follow an effective preparation strategy to separate yourself from rest of the test-takers.
Apart from your dedication and sincerity, knowing a few practical tips will help you to a great extent in cracking the entrance exam. Prof. Sanjay Shrivastava, Director, NIFT Patna, who is also the additional in-charge of NIFT Bhubaneswar, shares, "You must not only prepare well, but also perfect the art of presenting your knowledge in the best possible manner." He also says that time management, good health and stress control are three additional tools to focus.
What does CAT for Bachelor of Design (B.Des.) judge?
This will test your intuitive ability, power of observation in concept development, design ability of the candidate and creative and innovative use of colours and illustration skills.
To crack the part, Sreenanda Palit, Associate Professor & Centre Coordinator (Fashion Communication), NIFT Kolkata, advises, "You should be 100 percent original. You should think out of the box in order to secure a good score. Try to be as creative as possible."
What will GAT judge?
GAT will judge your English comprehension, quantitative ability, communication ability, analytical ability, general knowledge and current affairs.
Situation Test
This test evaluates your material handling and innovative ability on a given situation with a specific set of materials.
GAT for Bachelor of Technology (B.F.Tech.): This is to test your quantitative ability; communication ability and English comprehension; analytical and logical ability, general Knowledge and current affair, and also assess you through case study.
How to ace NIFT entrance exam?
Upgrade Observation & Visualisation Skills: The most crucial purpose of the test is to gauge your creative and imaginative skills. Apart from that, the questions are framed in order to judge your general awareness, observation skills and visualization as well. There's a myth among students that only good sketching is essential to score high. This is not true, as developing the aforementioned skills are equally important.
Improve Speed: Having exceptional drawing skills and creativity are useless if you don't have speed. The whole idea is to be able to present your imagination and uniqueness in a limited time.
Solve Sample Papers: Practice sample papers as much as you can. This will give you an idea about the types of questions that will be asked. You will know the overall difficulty level of the entrance test as well. Moreover, this will aid in increasing your speed to a great extent.
"Look into your weaker segments and try to work on those. Plan out daily sessions to nourish your skills", recommends Prof. Sanjay. Solving previous years' papers will also let you know the sequence in which you should answer different sections.
Candidates can download and practise NIFT sample papers from here.
Polish Your General Awareness: It is not necessary that you cram each and every GK book. Awareness about current happenings is more important. For this, make reading newspapers a habit. Moreover, you should also know about the famous designers, who have contributed in this challenging field. Spend time on reading fashion & design books/magazines. Make sure that no area is left out.
Don't Waste Time In Erasing & Redrawing: In the limited duration, you have to make sure that you do not waste time in erasing and redrawing, which most of the candidates do. To ensure this, it is recommended that you draw with a light hand, first focusing majorly on outlining only. After getting satisfied with the rough outline and dimensions, you can start with the detailing work and finalise it. Advising the candidates on improving their drawing skills, Prof. Shrivastava says, "Watch YouTube videos on sketching, design creations and colour applications for improvising on your existing skills. Remember, uniqueness in your representations is the key to success."
Be Innovative: Being unconventional to use your imagination and original ideas to create something is a prerequisite to clear this exam. You should have the ability to come up with unique ideas to design something new. CAT and GAT will evaluate your unique way of thinking. Taking care of your health and fitness during the preparation period and examination time is equally important. Writing such entrance exams needs a high level of concentration and stamina and that is only possible if you are in sound physical and mental condition.
NIFT: Important Details
Candidates can check below crucial details relevant to NIFT 2020:
| | |
| --- | --- |
| Events | Dates |
| Application window | October 23, 2019 |
| Last date for online registration with late fee of Rs.5000/- | January 4, 2020 |
| Window to update/edit application form | January 1 to 4, 2020 |
| Eligibility: Age | 23 years as on October 1, 2019. Candidates belonging to Scheduled Caste/Scheduled Tribe/Differently Abled Person (PHP) get relaxation of five years. |
| Educational qualification | Aspirants must have cleared the +2 level examination in the 10+2 pattern of examination of any recognized Central/State Board of Secondary Examination |
Questions related to NIFT Entrance Exam
Showing 1646 out of 1646 Questions
National Institute of Fashion Technology Entrance Examination (NIFT Entrance Exam)